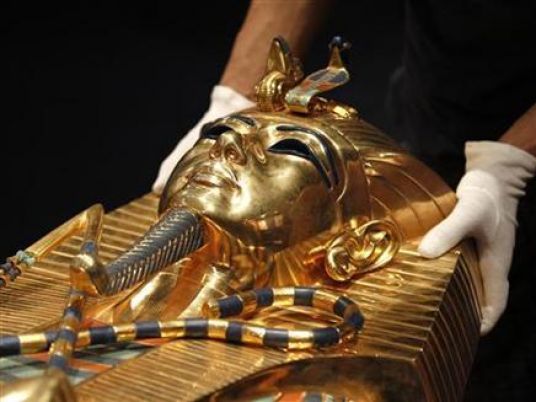 The Misr Insurance company has signed an insurance coverage contract worth US$900 million with the Supreme Council of Antiquities, alongside other companies organizing the tours for King Tutankhamun's properties to be exhibited around the world.
Al-Borsa News reported that the insurance will cover the Pharaoh's artifacts in preparation for any risks during the tour, such as fire threats, flight turbulence while the belongings are on board and other possible dangers.
The insurance comes as Minister of Antiquities Khaled al-Anany and the French Minister of Culture, Franck Riester launched the exhibition 'Tutankhamun, the treasure of the Pharaoh'.
The exhibition returns to Paris 52 years after it was first inaugurated in Grande Halle La Viellete, Al-Masry Al-Youm previously reported.
Tutankhamun's exhibition displayed his exceptional treasury compilation, featuring more than 150 gold coins, an assortment of the king's golden jewelry, sculptured objects and gold carvings such as coffins with lion feet.
According to the official Paris website for the convention and visitors bureau, 150 fascinating original objects found in 1922 in the tomb of the most famous pharaohs, the majority of which have never left Egypt before.
Amongst these include Tutankhamun's iconic gold mask, as well as his golden plated wooden bed.
200,000 tickets have been sold for the exhibition, which will run until September 15.