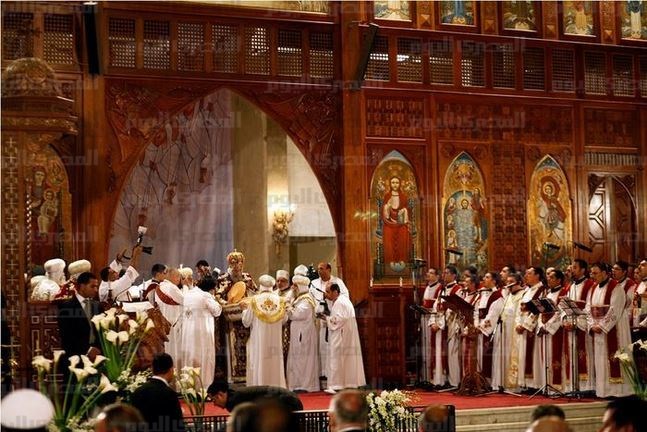 The Bishop of Samalut Church in Minya, Anba Befnosios, held Mass prayers on Thursday to mark the opening of 'al-Shohadaa' (Martyrs) Church in al-Our village, which is dedicated to 21 Coptic martyrs killed by the Islamic State (IS) in Libya, 2015.
20 of the Coptic martyrs had once been residents in Minya's Samalut and Mattay villages, before they were kidnapped by militants in January 2015. A republican decree was subsequently issued in 2015 to open a church in their memory.
Dozens of Copts and families of the martyrs participated in the Mass in al-Our village. They lifted the Egyptian flag on the church walls and placed depictions of prominent figures. Additionally, posters of Pope Twadros II, Bishop Benosios, and President Abdel Fattah al-Sisi were hung in front of the church.
A statement from the Libyan Interior Ministry said that the remains of the Egyptian Coptic martyrs were uncovered in October 2017.
The bodies were found handcuffed and beheaded, dressed in the same orange outfits they wore in the video showing their brutal murder, the statement said.
Libya's Public Prosecution announced in September 2017 that the perpetrators of the kidnapping and beheading of 21 Copts in February 2015 had been arrested, after authorities identified the location of the murdered Copts in Sirte.
The Egyptian prosecution had referred 20 people in 2016 to court, for forming a terrorist cell affiliated to the Islamic State group in Libya, saying that a number of the defendants had been involved in the beheading of the 21 Copts.
Edited translation from Al-Masry Al-Youm