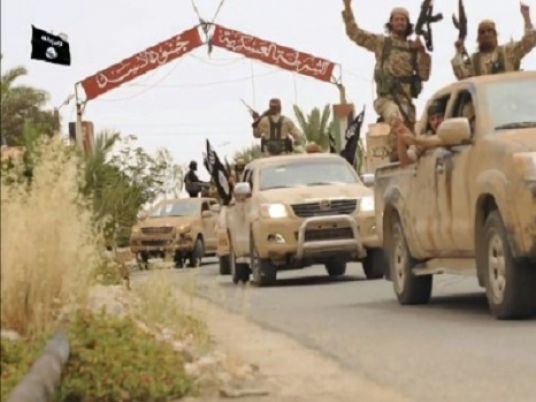 Fears mounted Friday over the fate of a Croatian abducted near Cairo by Islamic State group militants who have threatened to execute him unless Muslim women in Egyptian jails are freed.
Croatian President Kolinda Grabar-Kitarovic said she would talk to her Egyptian counterpart Abdel Fattah al-Sisi by telephone as the 48-hour deadline set by the jihadists on Wednesday neared.
"Be sure that we are really doing our best to solve this," she was quoted as saying by state-run HINA news agency.
Egypt's foreign ministry said it was making "intensive efforts" to establish the whereabouts of Tomislav Salopek, a 31-year-old working for French geoscience company CGG kidnapped last month.
The abduction — unprecedented for Egypt — has rattled foreigners working for multinational companies and underscored the jihadists' reach despite a massive military campaign against IS.
Although it has been battling an IS insurgency in the sparsely populated Sinai Peninsula, the North African country has been spared the hostage-taking of foreigners and horrific executions carried out by jihadists in Syria and Libya.
Salopek's father called on the kidnappers to release the father of two, as Croatian Foreign Minister Vesna Pusic travelled to Cairo to follow the case.
"I am asking the people who hold my son to let him return to his family, because his motive to go to your homeland was exclusively to earn bread for his children. Nothing else," Zlatko Salopek told AFP at the family's home in the eastern Croatian town of Vrpolje.
An image grab from a video made available by Jihadist media outlet Welayat Homs on July 4, 2015, all …
After a meeting between Egyptian Foreign Minister Sameh Shoukry and Pusic, Cairo said: "We will not spare any effort to find the hostage and guarantee his security."
Salopek had appeared in an IS video released on the Internet on Wednesday, kneeling next to a masked militant holding a knife.
He read out from a piece of paper that his captors would execute him within 48 hours if Cairo failed to release female prisoners, a key demand of Islamist militants over the past two years.
Thousands of people, mostly Islamists, have been jailed since the army overthrew Islamist president Mohamed Morsi in 2013 and unleashed a deadly crackdown on his supporters.
– Kidnapped from car –
Salopek was abducted last month on a road running from the west of Cairo. His driver was left unharmed, and police say they have questioned him.
It was not clear where the militants were holding him in the vast and mostly desert country.
While the jihadists operate mostly in Sinai, northeast Egypt, they have also conducted attacks in the western desert over the past two years.
Formerly known as Ansar Beit al-Maqdis, the group changed its name when it pledged allegiance to IS in November.
In December, they claimed responsibility for the murder of an American working for petroleum company Apache, also west of Cairo.
Last month, IS said it was behind a car bombing at the Italian consulate in Cairo — the first such attack against a foreign mission in Egypt since jihadists began their campaign following the crackdown on Islamists.
The video of Salopek was released the day before a lavish ceremony at the Suez Canal to celebrate an expansion of the waterway.
Sisi, who as army chief toppled Morsi, pledged at the ceremony to "defeat" the militants.
The army says it has killed more than 1,000 of them, but the insurgency in Sinai which neighbours the Gaza Strip and Israel appears unabated.
The jihadists have killed hundreds of soldiers and policemen, and they even destroyed a navy vessel with a wire-guided missile last month.