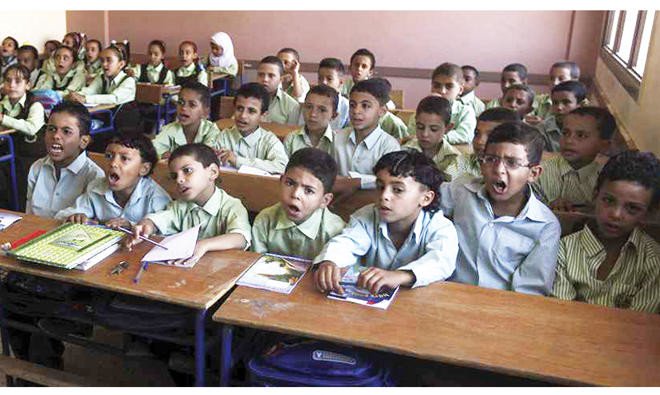 Egypt's Minister of Education Tarek Shawki issued on Thursday ministerial decision number 193 of 2019 regarding public school fees, which will be LE145 for children in the kindergarten stage, LE160 for those in elementary schools, LE150 for students in intermediate schools, LE195 for the high school students, and LE170 for students in vocational education schools.
The official school year will start for most school in Egypt on September 21, except for KG1, KG2, primary one and primary two schools, which will have their first day on Wednesday.
The minister exempted the following groups from paying the school fees: sons of the martyrs of the January 25 revolution, children of the martyrs of the armed forces, the police and the judiciary, children of victims of terrorism, children of beneficiaries of social security pension and governmental aids, and orphans.
The minister also exempted children of widows, children of the blind, children of people with special needs, children of male prisoners, children of war casualties and missing persons, students of schools in Halayeb, Shalateen and Abu Romada and students in schools in North Sinai.
Compared to the public schools, a study in 2018 by Edarabia found that education in Egypt's most expensive school, Cairo American College, could cost parents up to LE2,928,000 million for the entire 12 years of schooling.
The report, which presented several statistics about the cost of education in Cairo, also did a rundown of the top 19 most expensive schools in Egypt. The cheapest among them was the International School of Egypt (ISE), which costs LE768,650 for the duration of a child's education.
The study noted that there are several systems of education in Cairo, the most famous of which are the American and British diplomas, Canadian diplomas, Egyptian diplomas, French diplomas, German and Islamic diplomas. Public education in Egypt is known to be extremely weak, but Egypt has been making small steps towards improvement. Egypt's overall education quality for 2018 ranked 129 in the Spectator Index, compared to 130 in 2017.