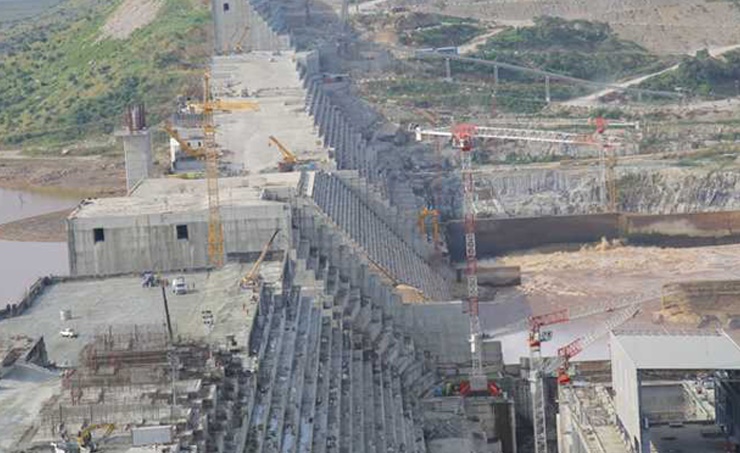 Egypt's Minister of Irrigation and Water Resources Mohammed Abdel Atty said on Monday that Egypt sees the construction works of the dams on the Nile River as a topic of critical importance, noting that these dams have altered Egypt's share of Nile River water.
During the opening session of the Regional Workshop by the Food and Agriculture Organization of the United Nations on the impacts of climate change on the agriculture and water sector, Abdel Atty clarified that the decrease of Egypt's water share by two percent will impact around two million Egyptian people as the Nile River supplies 95 percent of Egypt's water needs.
He added that the decrease will result in land fallowing across 200,000 acres that provide income for 200,000 Egyptian families. The decrease will also spur increasing rates of illegal immigration, he mentioned.
Abdel Atty called for projects coordination across the Nile River between the countries bordering the Nile River basin including Ethiopia, Sudan, South Sudan, Egypt, Rwanda, Tanzania, Uganda, Burundi, the Democratic Republic of Congo, Eritrea and Kenya.
In 2011, Ethiopia started constructing the Grand Ethiopian Renaissance Dam (GERD) over the Blue Nile River region, one of the major sources of water for the Nile river as it flows downstream. Ethiopians see the GERD as a great national project and a means of overcoming poverty. Egypt, however, fears the dam will impact its share of Nile water, which it has had access to since its historic 1959 agreement with Sudan.
Egypt's share of Nile water sits at 55.5 billion cubic meters, while Sudan's quota is 18.5 billion cubic meters. This is in accordance with an agreement signed between the two downstream countries in 1959; Ethiopia is not part of this agreement.
Ethiopia has reassured Cairo that Egypt's water share will not change. But the dam is expected to reduce Egypt's share of Nile waters, further limiting the country's already scarce water resources.
Edited translation from Al-Masry Al-Youm