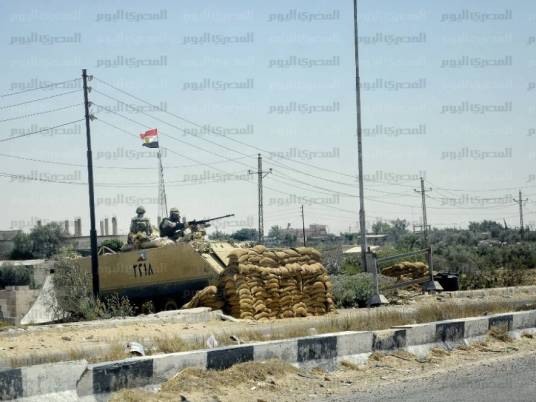 The armed forces have expanded their security operation to confront armed criminal elements in North Sinai and, in cooperation with the police, are tightening security in the area, military sources said.
The sources said in an exclusive statement to Al-Masry Al-Youm Friday that the security operation in Sinai has not been suspended, but has rather been expanded after coordination with Palestinian security forces.
The Egyptian Air Force flew above the border with Gaza to comb the area and monitor outlaws, the sources added.
The Second Field Army, border guards, and commandos are taking part in the operation.
The sources said that there is complete coordination with the Interior Ministry in North Sinai and members of the National Security Agency.
The sources said that the security operation has been expanded to include other criminal outposts using the latest means of tracking and surveillance. They added that the majority of outlaws are centered near the border with the Gaza Strip and Israel.
The armed forces are targeting elements that are a threat to Egypt's national security, elements that have attacked the police and the armed forces in recent days.
Sinai will be cleansed of the largest possible number of Jihadist elements in the near future in order to allow the region to develop economically, the sources said.