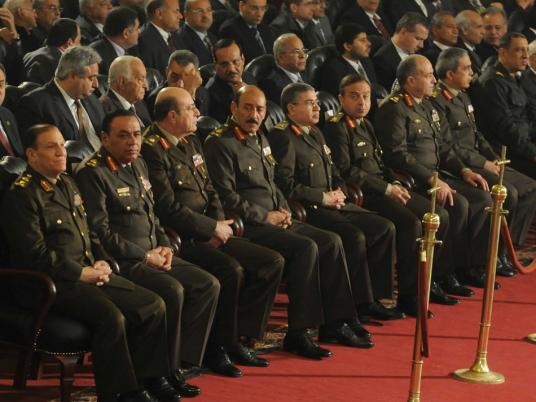 The official Facebook page of the Supreme Council of the Armed Forces (SCAF) on Thursday described recent tension between the council and the Muslim Brotherhood as one of the "mysteries of the transitional period.
According to a statement posted on the page, the council was surprised by the Brotherhood's intervention in the political game, saying "The MB is supposed to be a religious group, while the Freedom and Justice Party is the group's political player."
The statement went on to ask if the Brotherhood had a military wing, after several online calls were made for armed jihad against the SCAF that expressly declared affiliation to the group and the Islamist movement.
The ruling military council is fully committed to "the roadmap, as well as the integrity and transparency of all decisions during what remains of the transitional period and the delivery of power to a civilian authority," the SCAF Facebook page read.
It added that the SCAF had done its best during the transitional phase, denying the existence of any "deals with anyone, as this is against the ethics, principles and values of the Egyptian armed forces."
Tensions erupted recently between the council and the Brotherhood after the latter insisted on the resignation of Prime Minister Kamal al-Ganzouri's cabinet and the formation of a cabinet under its leadership. The SCAF has repeatedly insisted that the cabinet will stay in power until power is handed over to an elected president in June.
The FJP issued a controversial statement early this week denouncing the council's insistence on keeping the Ganzouri cabinet. The council responded with a statement defending the cabinet's policies.
Brotherhood lawyer Abdel Moneim Abdel Maksoud criticized the statement published on the SCAF's Facebook page accusing the Brotherhood of having a military wing.
He said that since its establishment by its founder Hassan al-Banna, the Brotherhood has adopted a peaceful approach and that the electorate gave the group its votes in the recent parliamentary elections. He went on to say that such an accusation was a circumvention of the will of the voters who elected the group.
A report prepared by a special People's Assembly parliamentary committee on Wednesday rejected a government statement delivered by Ganzouri in late February to address the country's problems and provide a vision for the transition period, describing it as "weak."
The panel reported that all 19 standing parliamentary committees rejected his statements, along with 21 political parties represented in Parliament.
The committee said Ganzouri's briefing did not respond to Parliament's recommendations for addressing the country's problems, nor did it meet the aspirations of the people.
Translated from Al-Masry Al-Youm