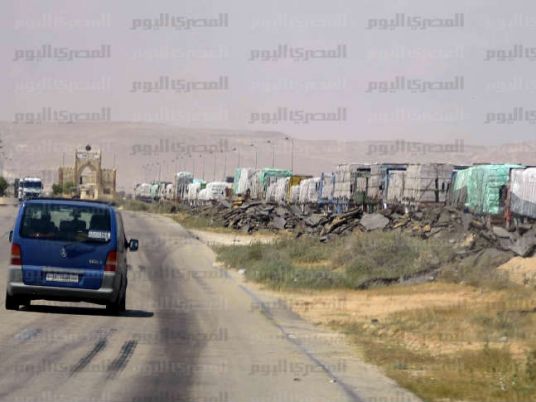 Egypt's military intelligence said Friday the dilemma of tens of Egyptian drivers held by militants in Libya had been resolved.
General Alaa abu Zeid, who heads the military intelligence bureau in Matrouh, the province located near the borders with libya, said the crisis had been resolved within less than one hour, adding that procedures are being completed to move the drivers and their trucks from the Libyan city of Ajdabiya to the Salloum border crossing with Egypt.
He did not elaborate on how the release was achieved but some earlier cases had reportedly been resolved with interference by Libyan tribal leaders.
Libyan militants held 50 Egyptian vehicles and nearly 100 drivers last Saturday after having freed other 80 trucks. The number of detained trucks later jumped up to 3,000 vehicles.
The militants reportedly wanted to release some Libyans convicted and jailed in Egypt.
Several Egyptians have either been killed or briefly taken hostage since the 2011 uprising that toppled former leader Muammar Qadhafi, which created a security vacuum that expanded the influence of militant groups.
Edited translation from Al-Masry Al-Youm