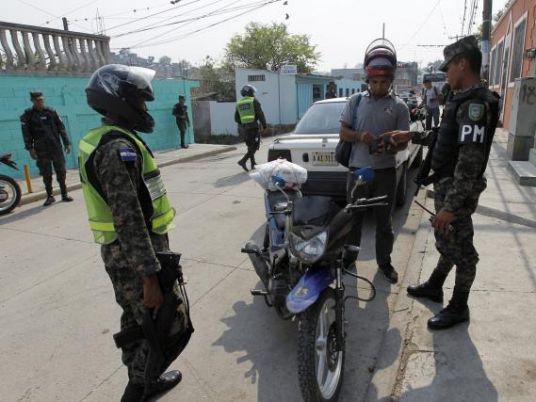 The militarization of Central America's violent Honduras has helped to stem gang bloodshed in a land known for the world's highest murder rate, but it has created another problem – an apparent spike in abuses blamed on soldiers.
Former President Porfirio Lobo rolled out the military in 2012 to fight drug gangs and his successor Juan Hernandez upped the offensive, pledging to "put a soldier on every corner".
While that may help Honduras shake off its reputation as the world's deadliest country, a litany of murder, rape and torture accusations by some victims and human rights groups against the military is haunting a country struggling to find its feet after a 2009 coup that sparked a surge in violence.
Poverty and chronic violence in Honduras were among the main factors behind a surge in illegal migration from Central America to the United States last year that caused a major political headache for President Barack Obama.
Between 2012 and 2014, Honduran soldiers were accused of being involved in at least nine murders, over 20 cases of torture and about 30 illegal detentions, according to data compiled by Reuters.
The figures assembled by Reuters come from the US State Department's 2014 Honduras human rights report, three major human rights organizations and three newspapers.
Reuters could not independently verify every incident of abuse blamed on the military, but confirmed two in interviews with victims. There is no official tally of abuses by soldiers.
In 2010 and 2011 there were no reported cases implicating soldiers in such crimes. The military was accused of abuses in 2009 related to protests following the ouster of former President Manuel Zelaya in a coup.
"The number of human rights violations by the military is rising, and the threat is greater and growing because military police operate with their faces covered and without visible identification, which fans impunity," said Juan Almendarez, director of CPTRT, a center for the treatment of torture victims and their relatives.
Honduras' Interior Minister Rigoberto Chang acknowledged there had been some cases of military abuses, but said they were isolated incidents and promised justice would be served.
"Those soldiers that violated the behavior code have been handed over to the courts," Chang, whose brief includes justice and human rights, told Reuters in May when asked about the abuses. "But the presence of soldiers in the streets will continue until security is reestablished."
Colonel Antonio Sanchez, the spokesman of the Honduran armed forces, declined to comment for this story when asked about a spike in military abuses. He said, however, that all soldiers were trained in human rights and any accused of wrongdoing would be judged in court.
"If anyone has a different idea over how the state can fight against insecurity in Honduras, let them propose it," he said.
Since taking office in early 2014, Hernandez, a military-trained politician, has deployed a new military police force known as the PMOP that is set to grow by 40 percent this year. Hernandez has also increased the defense budget by a fifth.
Supporters of greater military presence say it has helped lower the country's murder rate, which the United Nations put at over 90 per 100,000 people in 2012.
By comparison the global rate was over six deaths per 100,000, while the US one was below five. (graphic:
reut.rs/1RgDMXw
)
According to the respected National Autonomous University of Honduras' Observatory of Violence program, the 2014 murder rate fell to 68, down from 79 in 2013. As a result neighboring El Salvador took over last year as the country with the world's highest murder rate.
But there are also currently at least 24 soldiers being investigated by authorities on charges related to nine murder cases, according to the data compiled by Reuters, with more detained on suspicion of crimes ranging from torture to rape.
Military might
Last February, Luis Betancourt was working at his fruit stand in the Honduran capital, Tegucigalpa, when a group of masked men who claimed to be from the police's intelligence unit forced him into an idling car.
During the journey, the men revealed they were soldiers, and Betancourt said they told him there was a 120,000 lempira (US$5,525) price on his head.
"They told me that if I didn't pay anything, they would kill me and my family as well," he said.
Some of Betancourt's family witnessed the incident, and called the police, who rescued him. Four members of the PMOP were arrested and have been charged with his kidnapping.
More boots on the ground has played well politically for Hernandez, who says he is considering the idea of changing the constitution to allow him to run for a second term while also grappling with a $200 million corruption scandal at the Honduran Institute of Social Security that marred his election campaign.
The United States has said it respects the decision to use soldiers for policing, while the United Nations has urged Honduras to put a date on ending the military's security role.
A survey by the Observatory of Violence showed that 60 percent of Hondurans approve of the new military police.
"It's really nice, and we're safe, because there are soldiers who protect us," said housewife Tania Rodas, as her family celebrated her daughter's birthday in Tegucigalpa, just yards away from soldiers with assault rifles.