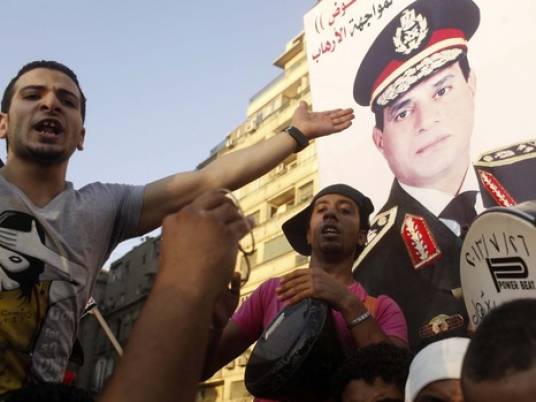 Egypt's top military council called on the newly-appointed Field Marshal Abdel Fattah al-Sisi to run for president, the state news agency said on Monday after convening to discuss his candidacy.
State-run Al-Ahram said that a military source said that General Sobhy Sedky, the commander of Egypt's Third Field Army, will replace Sisi as defense minister.
Sisi is believed to be the strongest among the candidates possibly running for president due to his popularity.
"I will vote for Sisi because Egypt, during this time, needs an 'iron' man who can fight terrorism. Moreover, he is charismatic," said Adullah Hamouda, a journalist based in London.
The much-speculated move came after Egypt's interim President Adly Mansour issued a presidential decree on Monday promoting Abdel-Fattah al-Sisi to the rank of field marshal.
On Sunday, Mansour announced that the presidential elections will be held before the parliamentary elections — an amendment to the transitional road map which was agreed upon by various political forces on 3 July.
Sisi's popularity soared as he announced the ouster of Morsy on 3 July 2013, amid mass nationwide protests against the former president's one-year rule.
Meanwhile, Deputy Prime Minister Ziad Bahaa Eldin told Aswat Masriya on Monday that he resigned from the government.
Bahaa Eldin, who is also the minister of international cooperation, posted a copy of his resignation on his Facebook page.
"After the endorsement of the constitution with a sweeping majority, a new legitimacy has been institutionalized, especially with the progress made by the government program for economic development and social justice declared on 12 September 2013," he said. "We have finalized a major phase in the road map and a new chapter is beginning."