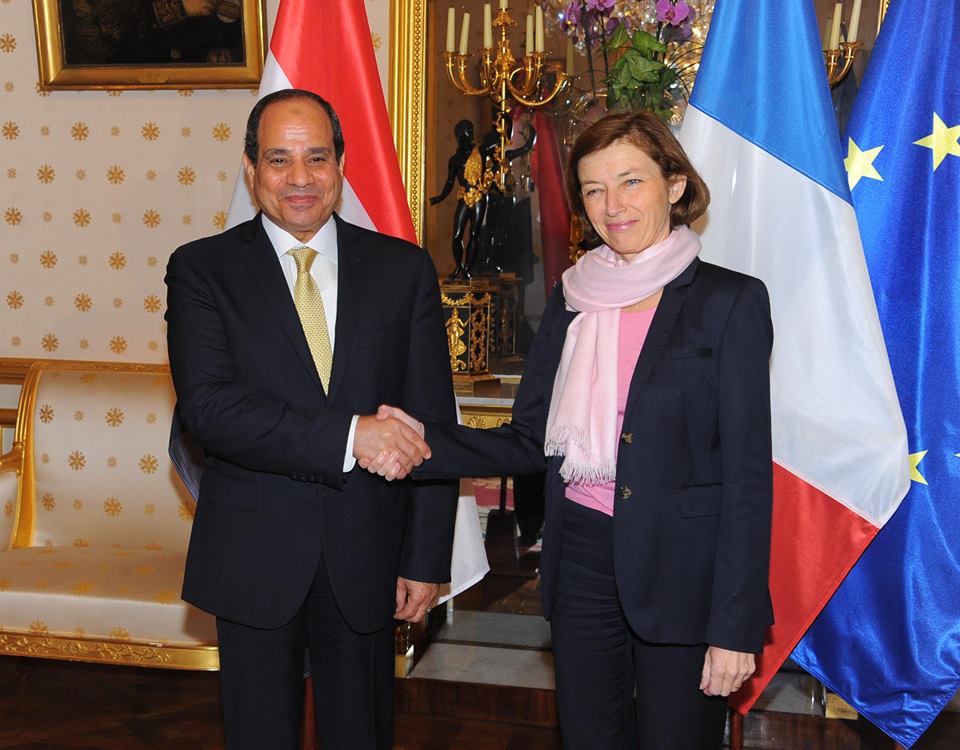 Egypt's President Abdel Fattah al-Sisi arrived in the French capital Paris on Monday accompanied by a high level delegation as part of a four-day visit.
Sisi will meet his French counterpart Emmanuel Macron in Élysée Palace to discuss more military cooperation between the two countries in addition to developments in the Palestinian case, and the situations in Yemen, Syria, Iraq, and Libya.
Presidential Spokesman Alaa Youssef said that Sisi and Macron spoke over the phone and that they stressed the strong relationship between the two countries, and their mutual desire to develop it further.
Six Egyptian and French Rafale fighters accompanied Sisi's presidential plane once it entered French airspace.
Sisi met French Defence Minister Florence Parley on Monday evening, and discussed ways to consolidate defense and military cooperation between Egypt and France. Sisi was received at his residency in Paris by Dassault Aviation chairman and CEO Eric Trappier.
Sisi was interviewed by French newspaper Le Figaro, in which he tackled some important issues between Egypt and France, among them global terrorist threats, and further explained Egypt's situation since since June 30, 2013.
Sisi was also interviewed by French TV channel France 24, which reviewed developments in the previous year in Egypt as well as the country's point of view on international issues including the crisis in Syria and Iraq and it's efforts in counter terrorism.
Trade and Industry Minister Tarek Kabil, a member of Sisi's delegation in Paris, said that the intensive meetings between officials of the two countries are a preface to a new stage in economic and commercial ties between Cairo and Paris.