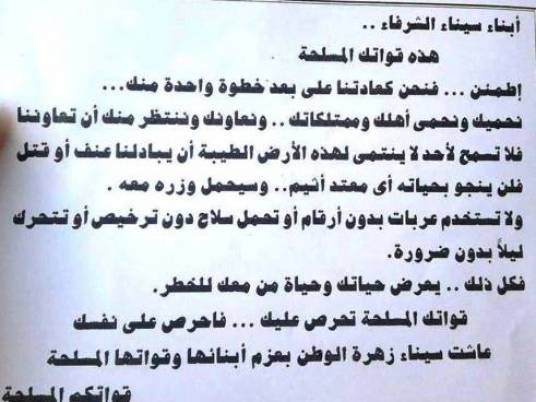 Military aircraft flew over the town of Arish, capital of North Sinai governorate, on Friday and dropped leaflets urging citizens to be cautious, not to walk in streets at night unless absolutely necessary, to report any person trying to attack security headquarters in Sinai, and not to carry weapons or drive cars without license plates.
"The honorable people of Sinai, these are your armed forces, stay assured we are one step away from you to protect you, your family, and your property. We cooperate with you and wait for your cooperation. Do not allow anyone who does not belong to this good earth to exchange violence with us or kill us…Do not drive vehicles without license plates, carry a weapon without a license, or move at night unless absolutely necessary," the leaflet read.
Military sources said that the armed forces have expanded their security operation to confront armed criminals in North Sinai, and, in cooperation with the police, to tighten security in the area.
The sources added in an exclusive statement to Al-Masry Al-Youm Friday that the security operation in Sinai was expanded after coordination with Palestinian security forces, as the Egyptian Air Force scoured the border in search of criminal elements.
Edited translation from Al-Masry Al-Youm