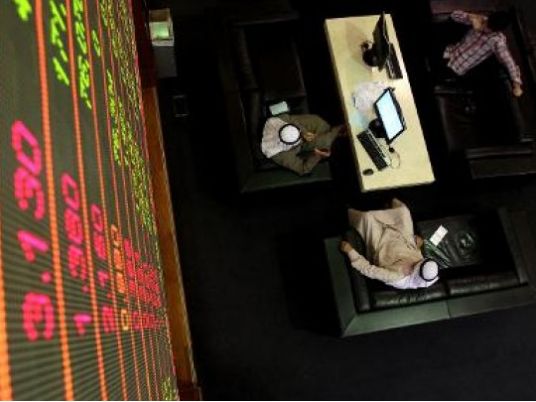 Egypt's stock market resumed rising on Monday after soaring last week in response to a currency devaluation, while most Gulf markets moved little as oil prices pulled back slightly.
The Cairo index jumped 14 percent last week on hopes that the devaluation would attract foreign fund inflows, helping to resolve the country's longstanding foreign exchange shortage.
On Sunday, the index fell back 0.3 percent, and it dropped further early on Monday. But it rallied in late trade to close 0.4 percent higher at 7,494 points, the highest finish since early November.
Trading volume shrank slightly, however, a negative technical sign that suggested the uptrend may be losing steam.
Major gainers included real estate firm SODIC, which surged 5.2 percent; the firm has said it could benefit from a weak currency as Egyptians flock to real estate as a store of value. Food maker Edita, an exporter, climbed 5.6 percent.
The Saudi index edged up 0.1 percent to 6,486 points, confirming a break above its 100-day average, now at 6,464 points — a bullish technical signal for the medium term. Before Sunday, the index had not closed above the average since June 2015.
Zain Saudi was the most heavily traded stock, rising 3.5 percent to 9.00 riyals, though it came well off its intra-day high of 9.50 riyals. It has been rising sharply since Reuters reported last Wednesday that its Kuwaiti parent Zain was narrowing the field of potential bidders for its mobile transmitter towers in Saudi Arabia and Kuwait.
Dubai's index fell 0.2 percent as builder Arabtec pulled back 3.5 percent. The stock had surged 6.8 percent on Sunday, ahead of the announcement that it had won a 1.7 billion dirham (US$463 million) contract from the United Arab Emirates government.
Abu Dhabi's index slid 0.4 percent as thinly traded Abu Dhabi National Energy sank 6.4 percent.
But telecommunications company Etisalat edged up 0.6 percent after two days of heavy selling by local investors who had built up holdings in the stock in anticipation of its inclusion in FTSE Russell's All-World and other indexes at the end of last week.
Qatar rose 0.3 percent as telecommunications firm Ooredoo gained 1.1 percent, although Gulf International Services fell 2.0 percent after a fire at one of its onshore drilling rigs hurt six people. It did not give a reason for the fire or the financial cost.
Bank Muscat fell 0.5 percent to 0.366 rial, underperforming a 0.5 percent rise in Oman's index, after it said 30.3 million rials ($78.7 million) of compulsorily convertible bonds issued in 2013 were being converted into common shares at a price of 0.337 rial.