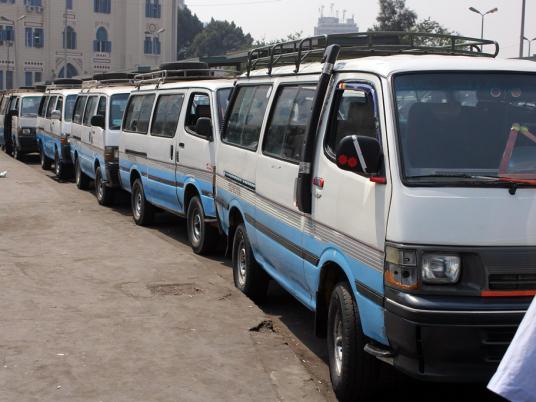 Dozens of microbus drivers besieged the Cairo Governorate headquarters on Tuesday, using about 50 microbuses to block the street in front of the building.
Protests by hundreds of drivers caused traffic in a number of streets and squares in Cairo, including Sayeda Aisha and Dar al-Salam squares in the south, Ahmed Helmy Square near downtown and Alf Maskan Square in the north of the city.
The drivers complained about fines imposed by the traffic department, affiliated with the Interior Ministry, for committing traffic violations.They say that they did not commit the violations and accuse the police of fabricating the traffic tickets to collect fines and pass them to high-ranking officers.
Tickets filed against them should be reconsidered, the drivers said, especially those from 2011.
The drivers also called for a solution to the ongoing fuel crisis, greater oversight of gas stations and auto parts shops, the establishment of an independent union for drivers, and organized microbus stations.
In Sayeda Aisha Square, striking drivers chanted, "Oh, justice where are you? The traffic tickets are between you and us," "Where is the revolution, where are its goals?" and "Bread, freedom and social justice," as motorists became enraged by the traffic congestion caused by the protest.
In Ahmed Helmy Square, protesters prevented people from boarding government-affiliated buses and threatened to damage cars that attempted to get past.
Khaled al-Gamasy, spokesperson for the nascent Microbus Drivers Union, said that the partial strike was a response to government officials ignoring drivers' demands. He warned of a full strike in which all public transportation drivers would participate if the demands are not addressed.
Edited translation from Al-Masry Al-Youm