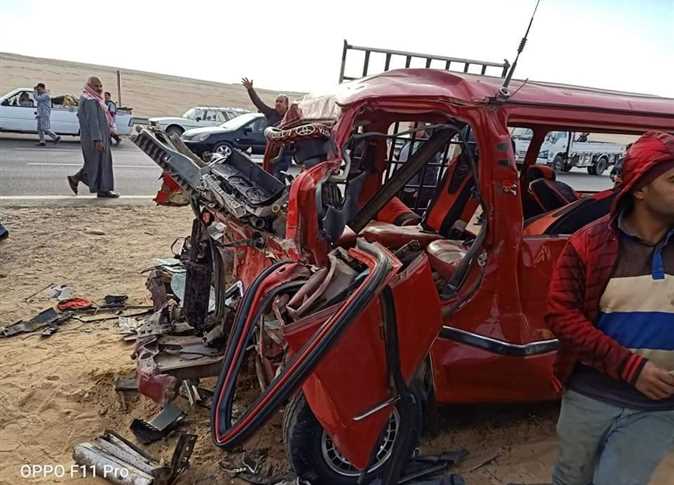 Seventeen people were injured and four people were killed in a microbus crash near Egypt's 15th of May City on Wednesday, when 14 fresh female graduates from Minya University's Faculty of Medicine were on their way from Minya to Cairo to attend a training program in the capital.
It was claimed that the graduates had been notified about the training program one day before, and were obligated to travel to Cairo amid threats from university officials that they would be dismissed from their current medical departments if they failed to attend.
The tragedy sparked outrage on social media, with users circulating several screenshots taken from a WhatsApp group in which the female doctors voiced their objection to travel the night before the accident, with some saying they wouldn't be able to make it due to health problems, pregnancy, or the unavailability of train tickets.
Another message was sent from the university's administration in response to the doctors' messages, affirming that no apologies will be accepted and adding that those who do not attend the program will be expelled from their current medical departments.
Thus, the women reluctantly booked a microbus to go to Cairo and attend the training program.
Two doctors, the microbus driver, and one other passenger died in the crash. One of the doctors who passed away was a newlywed, while a pregnant woman injured during the accident later suffered a miscarriage, according to Cairo 24 news outlet.
The injured passengers were immediately transported to Naser Institute for treatment following the accident, according to a statement by the Minister of Health.
For their part, Egypt's Supreme Medical Syndicate released an official statement on the incident, addressing the general prosecutor to launch an administrative as well as criminal investigation to probe the causes of the accident.
Moreover, the Syndicate has transferred the doctors responsible for forcing the women to attend the training program to an investigative committee, announcing as well that it will file a suit against the Ministry of Health calling for fair compensation for the victims and their families.