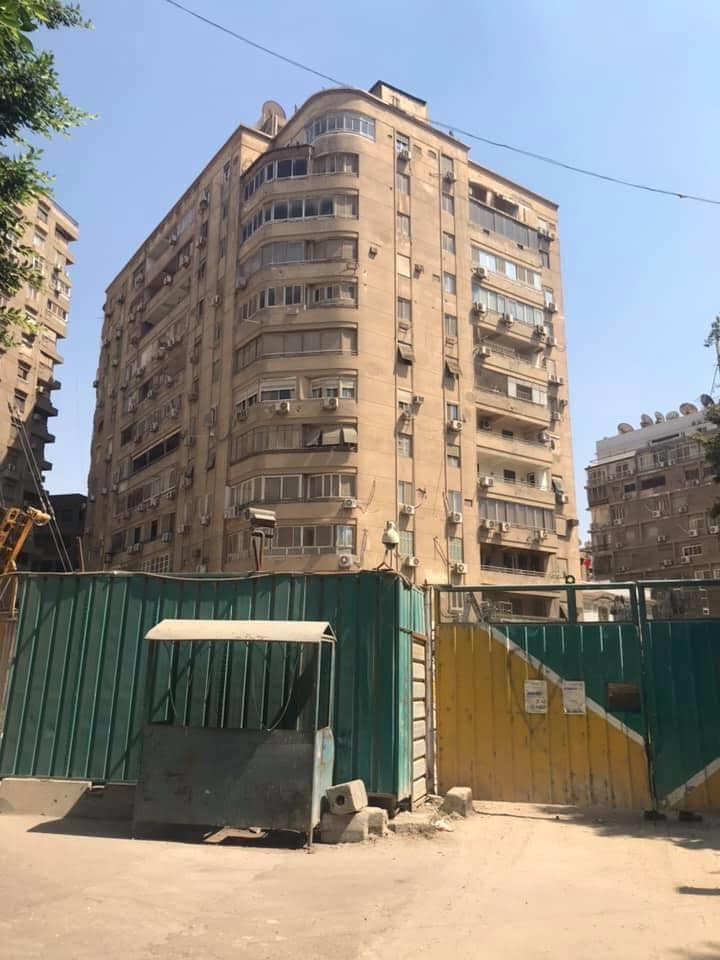 The Nefertiti Tunnel boring machine has continued crossing under the Bahrain embassy and the Sharbatly building in Zamalek, passing from Brazil Street to the Hassan Mohamed Street on its way to the Safaa Hejazi metro station third line, still under construction.
Sources at the Transport Ministry on Friday explained that the machine will enter the metro station after Eid al-Adha.
The Sharbatly building was evacuated last week after it began to sink on one side. An initial inspection showed damage including cracks, a sinkhole under the garage and another near the entrance.
Residents blamed the metro construction project for the sinkholes, and had viewed the digging as a great annoyance over the past few years.
The Transport Ministry alongside all concerned authorities have worked to repair the damages caused by the sinkholes at the Bahrain embassy and the Sharbatly Building.
The sinkhole and cracks inside the embassy were treated by injecting soil, rebuilding the outer wall and room attached to the embassy.
Iron pillars were also erected within the exposed concrete column at the Sharbatly building.
Transport Minister Kamel al-Wazir assured that work is underway to treat the soil under the room attached to the embassy and the damaged Sharbatly column.
Upon inspecting the Sharbatly Building's entrance, Wazir confirmed it was stable and the building is no longer leaning.
"We are eager to maintain the safety of the residents and to do whatever it takes to make the building totally safe," he stressed.
Last week, Wazir said that people should not rush to judgment and perceive the situation of the building as serious without receiving the results of specialized engineering committees.
During a call-in with Ahmed Moussa's TV show "Ala Massoulity" (On My Responsibility) on the privately-owned satellite channel Sada al-Balad, Wazir said that an engineering committee from Ain Shams University was at the site.
"The building is not leaning and has no cracks. Contrary to what was reported, there is no danger to the building," he said.
Wazir pointed out that his ministry paid LE30,000 compensation to each family so they can obtain alternative housing for one month.
Edited translation from Al-Masry Al-Youm