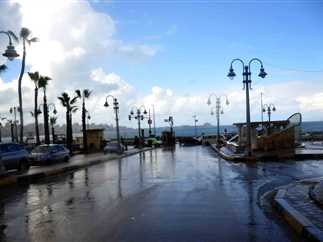 The Egyptian Meteorological Authority warned of weather fluctuations on Thursday and Friday, a decrease in weather temperatures, rainfall, and wind that would disturb maritime navigation.
Friday's weather is expected to be the worst in terms of temperatures, which will drop significantly over most parts of Egypt.
On Wednesday, February 2, meteorologists expect active winds in Cairo and Lower Egypt, accompanied by dust and sand in the west of the country.
During the day, temperatures will rise slightly in all parts of Egypt, while at night there will be a rise in Upper Egypt and South Sinai will rise from one to two degrees Celsius.
Maximum temperatures predicted on Wednesday:
Cairo and Lower Egypt 19C
Alexandria and the northern coasts 19C
South Sinai 23C
Northern Upper Egypt 20C
Southern Upper Egypt 23C
On Thursday and Friday, expect unstable weather  and rains at varying intensity on northern Egypt, extending to northern Upper Egypt. It is expected to be moderate in the north and will decrease in intensity as we head inland.
Active winds are predicted in Alexandria, Greater Cairo, Upper Egypt, the northern coasts, South Sinai, and Lower Egypt.
Maximum temperatures predicted on Thursday:
Alexandria and the northern coasts 19C
Cairo and Lower Egypt 16C
Northern Upper Egypt 18C
South Sinai is 23C
Maximum temperatures predicted on Friday:
The expected temperatures in Egypt on Friday will be the lowest during the week.
The temperatures in South Sinai will drop by 4 degrees Celsius  during the day, compared to Thursday's weather, and the temperatures in the southern governorates of Upper Egypt will drop by 3 degrees Celsius during the day.
‎Edited translation from Al-Masry Al-Youm