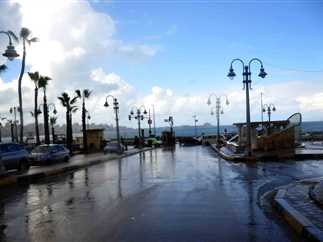 The Egyptian Meteorological Authority warned of the rapid and sharp weather fluctuations that are expected to occur in most parts of the country over Friday and Saturday.
This will include heavy rains and thunderstorms that could reach torrential rains in some areas.
Active wind and storms are predicted. 
Meteorologists stressed the need to continue to wear heavy winter clothes during this week and warned against taking photographs during lightning strikes, stressing the need to take caution while driving on the roads.
There are expected heavy rains and strong thunderstorms accompanied by hail, possibly reaching torrential rains are expected in Matruh Governorate, amid strong winds.
Hot weather is predicted in most parts of the country during the day on Friday, and active sandy wind intermittently.
At night medium to heavy rains and strong downward winds will start affecting the rest of the northern regions including the Mediterranean coasts, the Delta governorates, the Suez Canal cities and the Gulf of Suez and possibly Greater Cairo and northern Upper Egypt and the far north of the New Valley Governorate.
Meteorologists expect that in the daytime hours on Saturday, thunderstorms would form again and climax in the northern interior regions such as Greater Cairo, the Delta governorates and the Suez Canal cities, in addition to the Gulf of Suez and Sinai. It will be less severe in the New Valley and a few limited places in the northern or central Upper Egypt
The rains lead to the formation of torrential rains on Sinai and the roads of the Red Sea, especially roads of Suez and Ain Sokhna, on Saturday.
A decrease in temperatures by values of up to 10C is predicted across the country on Saturday as well so that cold weather will prevail at night.
Maximum temperatures predicted on Saturday:
Greater Cairo and Lower Egypt 27C
Northern coasts 25C
Northern Upper Egypt 30C
Southern Upper Egypt 31C
Edited translation from Al-Masry Al-Youm