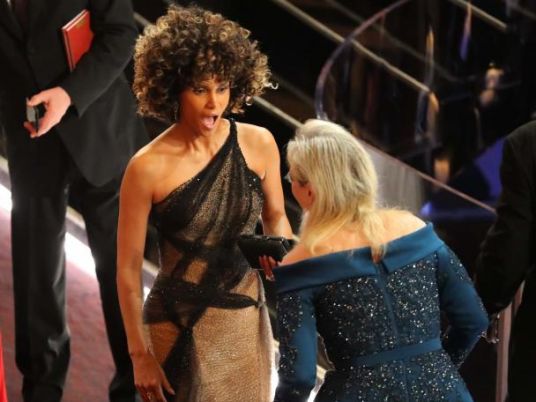 Meryl Streep on Saturday accused designer Karl Lagerfeld of spoiling her night at the Academy Awards ceremony by falsely accusing her of being paid to wear a gown on the Oscars red carpet.
Streep was responding to a claim earlier this week by Lagerfeld that the "Sophie's Choice" actress had decided against wearing a Chanel gown at Sunday's Oscar ceremony because she could get paid by wearing a dress from a different designer.
Lagerfeld's claims made headlines around the world.
Karl Lagerfeld and Meryl Streep at the 2017 Oscars (Charles Platiau (L) / Lucy Nicholson (R) / Reuters)
"The story was picked up globally, and continues, globally, to overwhelm my appearance at the Oscars, on the occasion of my record-breaking 20th nomination, and to eclipse this honor in the eyes of the media, my colleagues and the audience," Streep, 67, said in a statement.
Streep, the most admired and honored actress of her generation, was Oscar-nominated on Sunday for playing an eccentric opera singer in the comedy "Florence Foster Jenkins." She already has three Oscars for previous work.
She dismissed an apology earlier on Saturday from Lagerfeld, who admitted he had "misunderstood that Ms. Streep may have chosen another designer due to remuneration" and said he regretted the controversy.
"Mr. Lagerfeld's generic 'statement' of regret for this 'controversy' was not an apology," the actress said.
Reporting by Jill Serjeant; Reuters