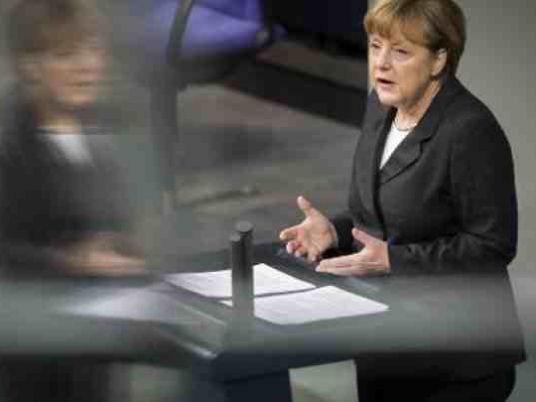 Chancellor Angela Merkel pledged Thursday to heighten security measures against Islamist militants following the Paris attacks, while vowing that Germany would not be divided by extremism of any kind.
"Hate preachers, violent delinquents who act in the name of Islam, those behind them, and the intellectual arsonists of international terrorism will be rigorously fought with all legal means at the disposal of the state," she said.
Merkel said that after her cabinet had moved to tighten a travel ban for suspected jihadists, it would soon stiffen penalties for financing terrorism.
Germany would also continue to provide weapons and military training to Kurdish fighters battling the Islamic State group in Iraq and Syria.
Merkel was addressing the German parliament after a minute's silence for the victims of the three days of violence that shocked France last week, with religious leaders and the French ambassador in the chamber.
"We are shocked and stunned by the deaths of 17 innocent people," she told the Bundestag, eight days after the shootings at the Charlie Hebdo satirical weekly, vowing that Germany and France "stand together in these difficult days".
Pointing to the twin menace of Islamist militancy and anti-Semitism behind the attacks, she urged the German people not to be divided by the "sick logic" of the killers.
Merkel warned against a backlash against Muslims in Germany, in view of the three-month-old street movement "Patriotic Europeans Against the Islamisation of the Occident", or PEGIDA, which drew 25,000 marchers on Monday.
She reiterated that both Judaism and Islam are "part of Germany" and pledged that expressions of anti-Semitism and attacks on mosques would be equally rigorously prosecuted, as "discrimination and marginalisation have no place" in Germany.
"Any marginalisation of Muslims, any general suspicion is unacceptable," she said, promising that "as chancellor I place Muslims in Germany under my protection".
However, she challenged Islamic scholars to explain why so often violence is perpetrated in the name of their faith, saying this was a relevant question being asked by many people.