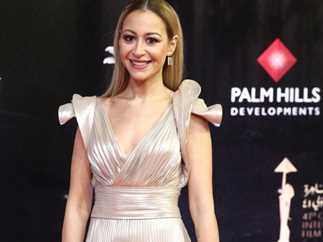 Actress Menna Shalaby has started filming her new series "Betlou' Al-Rouh" for the Ramadan season 2022.
Shalaby is currently in the Lebanese capital, Beirut, where most of the shooting will take place.

The series co-stars Ahmed al-Saadany, and Ahmed Daoud, directed by Kamla Abu Zekry, produced by Sadiq al-Sabah, and written by Mohamed Hisham Obaya.
Shalaby's latest movie "Ziko" is currently being screened, starring Karim Mahmoud Abdel Aziz,Amr Abdel Gelil, Mahmoud Hafez, Rania Mansour and Caroline Azmy.
"Ziko" is written by Mostafa Hamdy and directed by Peter Mimi. It recorded a total of LE21.4 million in revenues in five weeks.
"Al-Garima" (The Crime) movie started screening earlier in January, starring Ahmed Ezz, and Shalaby.
Shalaby was nominated for the Emmy Awards for her role in the crime series "Every Week has a Friday", according to the award's official website – a first for the star.