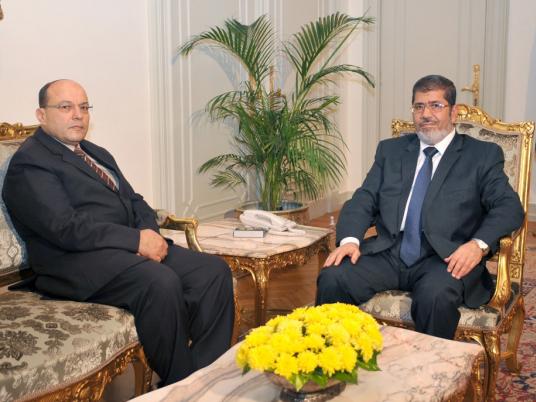 Justice Minister Ahmed Mekky has said that he advised President Mohamed Morsy not to remove Abdel Meguid Mahmoud as prosecutor general, and that a recent court ruling overturning Mahmoud's removal would be enforceable if it is upheld by the Court of Cassation.
Mekky's statements came after the Cairo Court of Appeals last week overturned Morsy's decision to sack Mahmoud and appoint Talaat Abdallah in his place as part of a controversial constitutional declaration in November.
In a phone interview with the satellite channel Al-Hayat, Mekky claimed he had nothing to do with the appointment of Abdallah and removal of Mahmoud as prosecutor general, and said that the Supreme Judicial Council would be in charge of selecting a new prosecutor general if Abdallah is ultimately removed.
He added that though he advised Morsy not to remove Mahmoud, the ultimate decision to appoint Abdallah was legal.
In his November constitutional declaration, Morsy removed Meguid and appointed Abdallah in his place, stoking fury among opposition members and many from the judiciary who said that Morsy overstepped his powers. Judges throughout the country went on strike to protest the decision.
Edited translation from Al-Masry Al-Youm