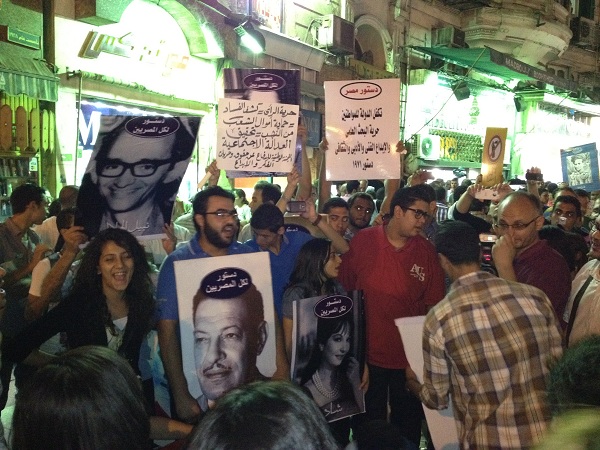 Media and press freedom organizations have criticized the appointment of figures close to the Freedom and Justice Party to leading positions in state newspapers and demanded the cancellation of laws they say hinder the freedom of journalists and allow them to be prosecuted.
The New York-based Committee to Protect Journalists said that comprehensive reforms to press laws in Egypt must be made.
"We welcome President [Mohamed] Morsy's decision to ban pre-trial detention but urge thorough reform that repeals the archaic laws criminalizing the reporting of news and the expression of opinion," said CPJ Executive Director Joel Simon in a 23 August statement. "Authorities must also halt an alarming rise in repression that has included newspaper confiscations, criminal prosecutions, and assaults against journalists."
Last month, Morsy issued a decree banning the pre-trial detention of journalists accused of press-related officials shortly after Al-Dostour chief editor Islam Afify was detained pending trial for spreading false information that could harm public interest and insulting the president.
Reporters Without Borders said that demands for independent bodies to elect or appoint chief editors had gone unanswered.
The organization called upon the Egyptian authorities to rescind the appointments because "the authorities are continuing the Mubarak era's methods of making appointments and are thereby perpetuating government control of the state-owned media, which must stop."
"Media independence is one of the guarantees of freedom of information in a country that wants to establish a democratic system," Reporters Without Borders said in a 23 August statement.
These appointments had their effect on the editorial line in these newspapers, said the organization, citing reports from the Arabic Network for Human Rights Information. These newspapers stopped publishing critical articles, it said, giving the example of state-owned Al-Akhbar canceling the opinions page and no longer publishing novelist Ibrahim Abdel Meguid's weekly column.
Abdel Meguid said that the decision is a result of the editorial policy endorsed after Mohamed Hassan al-Banna was appointed chief editor by the Shura Council, claiming that he refuses to run articles that criticize the Muslim Brotherhood. The chief editors appointed by the National Democratic Party were more professional, Abdel Meguid added.
Famous novelist Youssef al-Qaeed told Al-Masry Al-Youm on 14 August that an opinion piece he penned for Al-Akhbar that contained harsh criticism of the Brotherhood was not published.
ANHRI reported that articles by Abla al-Roweiny and Ghada Nabil were also censored in the past month, by Al-Akhbar and Al-Gomhurriya respectively. Roweiny was pressured to change the phrase "Brotherhood domination" while Nabil criticized the "gag orders" being imposed at state run papers, ANHRI added.
Edited translation from Al-Masry Al-Youm