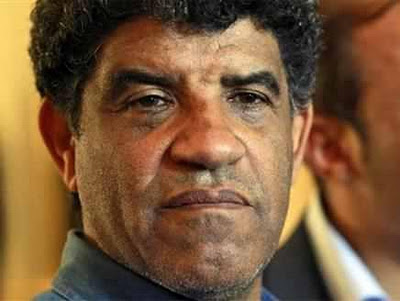 Libya has said that Mauritania handed over Abdallah al-Senussi, chief of intelligence under late Libyan leader Muammar Qadhafi on Wednesday. He was arrested in Mauritania trying to enter the Nouakchott airport on a false passport, coming from Morocco.
"He is in the hands of the government now," Assistant Attorney General Taha Baara told Agence France-Presse.
Senussi and Saif al-Islam Gaddafi, son of the late leader, are wanted by the International Criminal Court for war crimes.
The Libyan revolution, with the help of NATO, overthrew Qadhafi, who had been ruling Libya since 1969. He and his son Moatassim were arrested in August of last year, killed and buried in an unknown place, so the grave would not become a shrine.
State television reported on the handover Wednesday.
"Mauritanian authorities hand over ex-Libyan spy chief Abdullah al-Senussi to Libya," read a newsflash on the screen written in Arabic.
An official source speaking on condition of anonymity confirmed that Senussi had "effectively left Mauritania".
A delegation from Libya, including the defense minister and army chief of staff, were in Nouakchott on Tuesday for a visit which several official sources said was in connection with the extradition.
Senussi, a brother-in-law and feared former right-hand man of the slain Libyan dictator, was arrested in Mauritania in March and charged two months later for illegal entry and use of forged documents.
Libya has since pushed hard for the extradition of the man who is also wanted by France and the International Criminal Court in The Hague.
In July, Libya's new authorities dispatched Prime Minister Abdel Rahim al-Kib to Nouakchott to press for the handover, but Mauritanian President Mohamed Ould Abdel Aziz said Senussi had to face justice for illegally entering the country.
On June 27, 2011, the ICC issued an arrest warrant for Senussi saying he was an "indirect perpetrator of crimes against humanity, of murder and persecution based on political grounds" in the eastern Libyan city of Benghazi.
Benghazi was the birthplace of the Libyan revolt that started in February 2011 and eventually put an end to more than four decades of dictatorship. It led to the death of Kadhafi and the arrest of several of his allies.
Senussi is the target of another international arrest warrant after a Paris court sentenced him in absentia to life in prison for involvement in the bombing of a French UTA airliner over Niger in September 1989.
The plane was carrying 170 people from Brazzaville to Paris via N'Djamena.
That attack — along with the bombing of a Pan Am jumbo jet over Lockerbie, Scotland in December 1988 in which 270 people were killed — led to a UN-mandated air blockade of Libya in 1992.
Interpol had issued a so-called "red notice" for Senussi on behalf of Libya. The global police body said he was wanted "for fraud offences including embezzling public funds and misuse