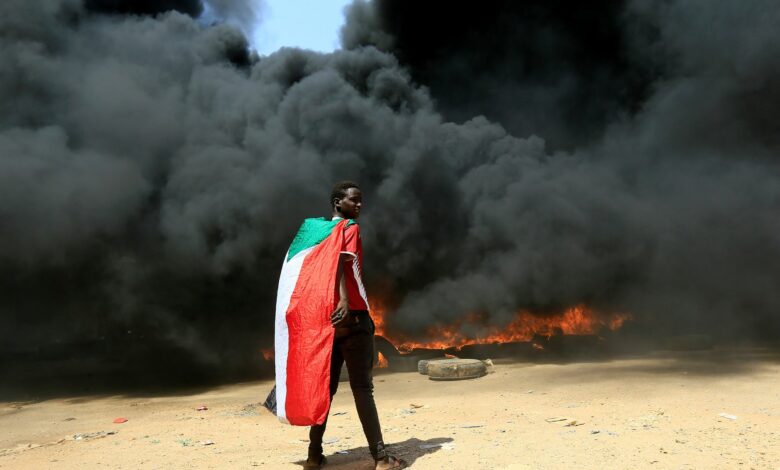 KHARTOUM, Oct 21 (Reuters) – Huge crowds of people marched in several parts of the Sudanese capital and other cities on Thursday in demonstrations against the prospect of military rule, as the crisis in the country's troubled transition from authoritarian rule deepened.
The military has shared power with civilian parties in a transitional authority since the removal of President Omar al-Bashir in 2019 in a popular uprising after three decades of his rule.
A coalition of rebel groups and political parties have aligned themselves with the military, which has accused the civilian parties of mismanagement and monopolising power, and they are seeking to dissolve the cabinet.
Civilian leaders say that this would amount to a coup and that the military aims to install a government it can control.
Thursday's protest, which began at midday and continued after sundown, took place on the anniversary of the 1964 October Revolution that overthrew a military government and led to a period of parliamentary democracy.
It was preceded by days of smaller neighborhood protests.
Reuters journalists estimated the number of participants to be in the hundreds of thousands, making it the biggest demonstration of the transition.
Plumes of smoke could be seen across Khartoum as protesters burned tires and waved Sudanese flags.
Many chants were critical of the head of the ruling Sovereign Council, General Abdel Fattah Al-Burhan, accusing him of being loyal to Bashir. Some demanded he hand over leadership to civilians and others demanded his removal.
"This country is ours, and our government is civilian," one chant said.
The Central Committee of Sudanese Doctors said 37 people were injured in the protests, which it blamed on government forces, including four gunshot victims.