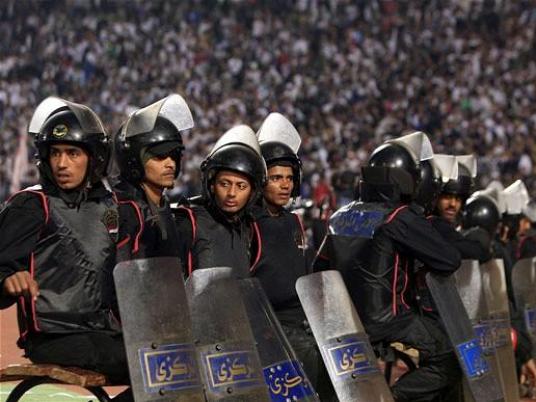 Some 100 members of the Masry Club ultras, known as the "Green Eagles," chained the gates of the investment zone in Port Said at 1 am on Sunday to protest moving the trial of suspects implicated in the February football violence there to the Police Academy in Cairo, demanding the trial be held in Ismailia.
Military leaders eventually convinced the ultras, the name adopted by hardcore football fans, to re-open the investment zone and let its 37,000 workers resume work.
Ashraf al-Ezaby, coordinator of the suspects' defense team, said they met on Sunday to attempt to move the trial to Cairo on Tuesday.
Ezaby added that the team communicated with security leaders in Port Said to coordinate moving the lawyers and the families to Cairo and ensuring their security. However, no response was received, despite threats made by the Ultras Ahlawy, he added.A number of Masry ultras and Salafis have decided to travel along with the lawyers and the families to keep them secure.
The Ismailia Court of Appeals had previously granted permission for 100 of the victims' families and 43 of the suspects' families to attend the court session.
The security directorate will move 61 of the suspects imprisoned in the Port Said prison and Port Fouad police station to Cairo to attend the session.
Security sources at the Interior Ministry told Al-Masry Al-Youm on Sunday that the security services at the Cairo Security Directorate plan to coordinate with the armed forces to secure the trial sessions.
Major General Mohsen Mourad, the Cairo security chief, held a meeting with senior leaders of the directorate and the Central Security Forces to draw up a security plan, which will include securing the academy and the suspects on their way to and from the academy, according to the sources.
The sources also added that strict security measures would be enforced outside the academy's premises starting at 5 am Tuesday, and that troops would be deployed on roads leading to the academy. A security cordon would be imposed at entrances of the academy, they said.
Translated from Al-Masry Al-Youm