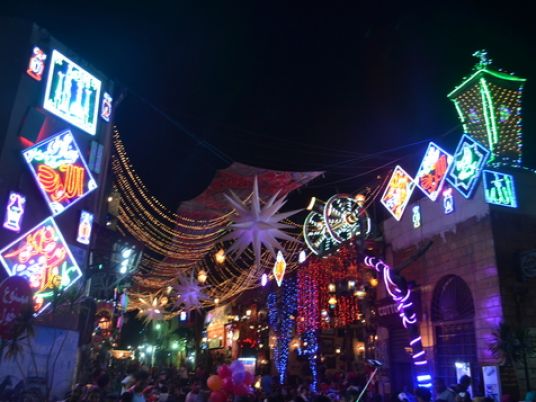 Masr al-Mahrusa Cafe cultural salon started on Sunday. The salon is held yearly during Ramadan, as it represents an open dialogue between the makers of art and culture on the one hand and the public on the other.
The salon was founded by writer and managing editor of Al-Gomhuriya newspaper Yousry al-Sayyed. It became a Ramadan tradition held every year in a different cafe open to the street.
This year Sayyed holds the salon in Beit al-Sennary in Sayyeda Zeinab area.
This year's program is characterized by diversity and excellence compared to previous years.
The first event on schedule began on Sunday at 9.00pm and included discussions with intellectuals and journalistic luminaries, as well as celebrations on the occasion of Egypt's 10th of Ramadan military victory.
The program focuses on the freedom of creativity and will end on the 18th day of Ramadan, a Tuesday.
This year's program has a different feature, as it dedicates nights to Syrian poetry, religious songs and Arabic music, as well as open dialogues with political, military, artistic and cultural figures, including Culture Minister Helmy Al-Namnam.
Head of the Projects and Services Sector at the Bibliotheca Alexandrina, Khaled Azab, said that the Masr al-Mahrusa cafe is part of a wide range of Ramadan activities held at Beit al-Sennary this year.
Ayman Mansour, Director of Private Projects at the Bibliotheca Alexandrina and Director of Beit al-Sennary, added that the varied programs offered through this event add a new touch to the dialogue between Sayyeda Zeinab residents and the guests of the café.
He added that the cultural product of Beit al-Sennary is also a varied product.
Masr al-Mahrusa cafe is a creek of serious culture which promotes the participation of citizens to discuss serious and deep dialogue on the concerns of the homeland, said Mansour.
Masr al-Mahrusa founder said he plans to establish the event in other areas, adding that it achieved this year a higher public interaction, unlike other cultural salons limited to the elite and the intellectuals. In additon, the events are recorded and published on the internet so everyone can watch them, Sayyed pointed out.
This year's program selections include music, politics, sports, art, poetry, religious singing, cinema and theater.
On Sunday June 4, the events started with a discussion on the government's and money's control on media; on Monday, participants will celebrate the 10th of Ramadan victory and will host veterans of the 6th of October War, Sayyed said.
Poetry and singing are on schedule as well on Monday, as poet Saeed Shehata will recite some of his compositions and the Nile Ensemble will perform religious songs.
On Saturday, the cafe will host Culture Minister Helmy Al-Namnam and Journalists Syndicate Chairman Abdel Mohsen Salama.
Sunday will be dedicated to Syrian art. The cafe will host the Syrian ambassador to Cairo, along with Egyptian and Syrian politicians and writers.
Edited translation from Al-Masry Al-Youm