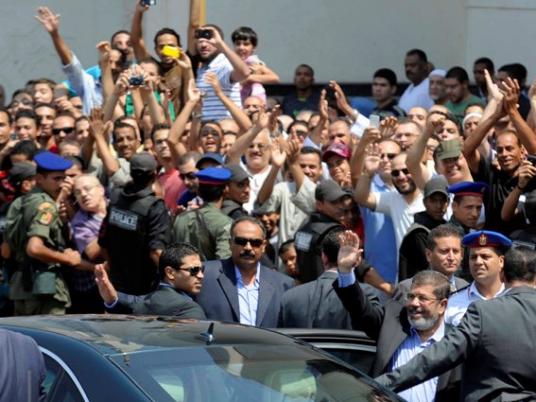 Roads in Marsa Matrouh Governorate are being repaired and beautified in preparation for President Mohamed Morsy's visit on Friday, specifically the road between the airport and the new Taneem Mosque, which Morsy will open.
Some store owners with shops along the roads Morsy's convoy is scheduled travel complained that the visit would disrupt their business during pre-Eid al-Adha shopping.
They said they have been ordered to close their shops from Thursday evening until Morsy departs. The police department denies giving this directive.
The governorate council removed a speed bump, the construction of which had cost LE5,000, so the president's convoy would not be disturbed. It also pruned and decorated the trees on both sides of the road.
Sharif Saeed Farag, a member of the 25 January Revolution Youth Coalition, claimed that the Freedom and Justice Party is actually handling preparations for the visit.
"Is the president coming to visit Matrouh and its people, or to visit the Freedom and Justice Party?" he wondered.
"There were rumors that the president's visit would cost LE3 million, which we did not originally believe," he added, "but based on the preparations, that figure does not seem exaggerated."
Edited translation from Al-Masry Al-Youm