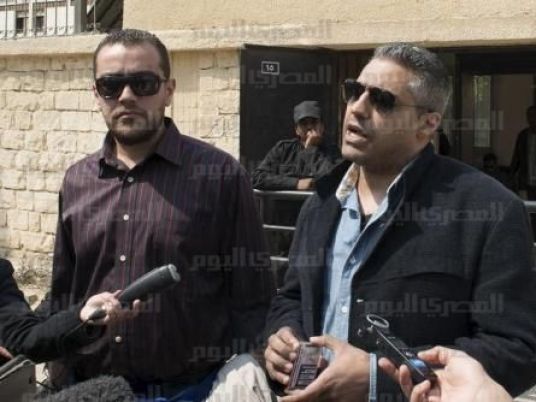 Former Al-Jazeera journalist Mohamed Fahmy, who was arrested in 2013 and spent more than 400 days behind bars, is publishing an account of his trial and experiences in the Egyptian prison system.
Titled "The Marriott Cell", the book will be published this autumn, with a film adaptation in the works, starring Egyptian actor Amr Waked, who is a long-time friend of Fahmy.
Candian-Egyptian journalist Fahmy was working as Cairo bureau chief for Al-Jazeera English in December 2013 when he was arrested at the Cairo Marriott Hotel in Zamalek, along with Al-Jazeera correspondent Peter Greste and producer Baher Mohamed. The three men were accused of conspiring with the Muslim Brotherhood group, which was under attack in the wake of the June 30 ouster of former President Mohamed Morsi.
Fahmy was imprisoned for over a year, and after a series of legal procedures and renouncing his Egyptian citizenship, Fahmy was pardoned by President Abdel Fattah al-Sisi in September 2015. After his release, he returned to Canada, where he is now an adjunct professor of journalism at the University of British Columbia.
Fahmy's memoir will give readers the inside story of his arrest, trial and detention, as well as discussing the inside players behind his imprisonment. The book seeks to identify some of the political factors behind the conflict in Egypt and the region around the time of his arrest.
In an interview with Canadian news magazine Maclean's, Fahmy said the book and film will reveal for the first time secret negotiations that led to his release. Fahmy says he and his colleagues were pawns in a bigger fight between Egypt, Saudi Arabia and the United Arab Emirates on the one hand, and Qatar, which owns Al-Jazeera, on the other.
Towards the tail end of his imprisonment, Fahmy decided to sue Al-Jazeera for negligence and breach of contract. Along with several other Al Jazeera journalists, he has spoken out against Al-Jazeera, accusing them of negligence with regard to their employees' safety.
In June 2015, Fahmy told news outlet Egyptian Streets, "News organizations have an obligation to report fairly and objectively and to take all reasonable steps to protect their employees — or at the very least to not deliberately and callously endanger their employees. Al-Jazeera has failed or refused to meet these most basic standards and they deserve to be held accountable."
His case was highly controversial in Egypt, with many celebrated figures both locally and internationally expressing contempt for his imprisonment. With the case catching headlines globally, Fahmy privately hired Amal Clooney as his personal defense lawyer.
Media coverage of the case has reflected widespread distaste for the way Egypt treats journalists, as well as a degree of concern regarding Al-Jazeera's conduct, both as an employer and a supporter of Islamist political movements.
Egyptian actor Amr Waked, who is set to play Fahmy in the upcoming film, has revealed that he was at university with Fahmy and knew him personally. This friendship makes the role particularly important Waked, who is politically active himself and has openly criticized Egypt for their treatment of Fahmy in the past.
"I'm not interested in making a political film, but rather a film about how politics destroys humanity and crushes principals to protect the interests of a few powerful people," Waked told Screen International.
"There are many layers to this story and the most important one for me is how this man lost his life, but with wit and determination managed to get it back," he said.
"This is the story of a liberal guy, who went to the American College in Cairo, and then finds himself locked up with a bunch of people with fundamentalist, twisted ideas about religion and life. It would almost be funny if the implications of the charges hadn't been so serious."
British film agency the Development Partnership has acquired the rights for the film and it will be released internationally. Former journalist Michael Bronner will write the script. The movie does not yet have a director or anticipated release date, but according to the British Council website's British Film Directory, the release date will be some time in 2017.