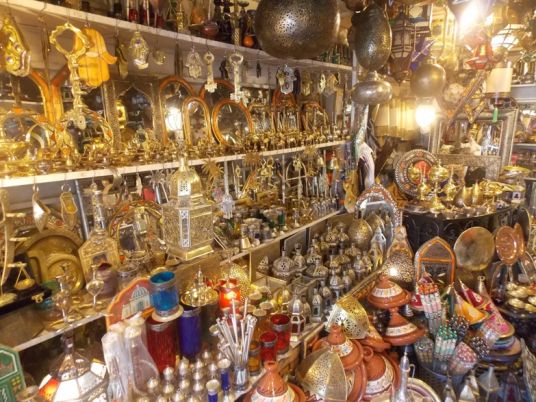 The calls of buskers mingled with the resonant, melodious tunes of street musicians and the gentle welcoming smiles of vendors; all looming in the air creating a cozy yet vibrant and magical ambience in Jemaa al-Fna.
Declared a UNESCO World Heritage site in 1985, the vast plaza and marketplace of Jemaa al-Fna, is a fascinating venue of cultural identity, history, and trading since the late tenth century.
Stepping into Marrakech's heart of the old city for an unprecedented visit, a middle-aged man in Djellaba (a Berber traditional loose fitting garment with long sleeves and hood) was sitting cross-legged with his back to the entrance. As he moved his fingers up and down comfortably and confidently on the holes of the flute, a handful of snakes of different spices started to slowly sway right and left magnetizing the crowd in the blink of an eye. No wonder he is called a "snake charmer" since venomous reptiles, as a matter of fact, do not have ears, but they are usually trained to undergo various performances.
Claiming a central spot in the plaza, chained monkeys were tumbling and mimicking human gestures. One was shaking hands with some tourists and posing for pictures with passersby for small change.
An endless series of entertainers unrolled an authentic, chaotic scene; from the storytellers of ancient tales and card manipulator to palm readers and female henna tattoists.
I pushed my way through the crowd noticing a range of orange juice carts. They were squeezed close to each other displaying vivid, ripe slices of orange, skillfully piled up in picturesque creative cluster. Moroccan is well known for exporting orange and mandarin to European countries based on its high quality agricultural production.
As the day proceeded, street buskers dwindled away to their home caves, while dozens of food stalls set out tables and chairs stretching across the square. The smell of traditional, popular dishes from Moroccan cuisine, including couscous, shakshouka, and kalinti, was true appetite stimulation that could hardly be ignored.
Multi-sized, copper lighting fixtures and lanterns embroidered with detailed carvings
While the sun began to sink below the horizon, the glistening lights of the authentic Moroccan lanterns brightened up a long, packed street located behind the plaza.
A string of stores ran across the street of the ancient, working-class zone embracing a plethora of Morocco's most popular handcrafted products.
My first stop was at a store of vast assortment of traditional copper lighting fixtures and lanterns, varying in sizes and shapes, lined up on shelves.
"I can't even remember when I started to learn this craft," an old artisan with a silver, trimmed beard and a deep crescent under his eyes, told Egypt Independent while holding a square-shaped graver cutting lines upon a copper-plate.
"It is an heritage we inherited from our ancestors, exactly like Egyptians." His face broke into a soft smile, then, he returned finishing his intricate carving. His piercing eyes while incising the copper with slender, supple fingers, speak more than words about his decades-long proficiency.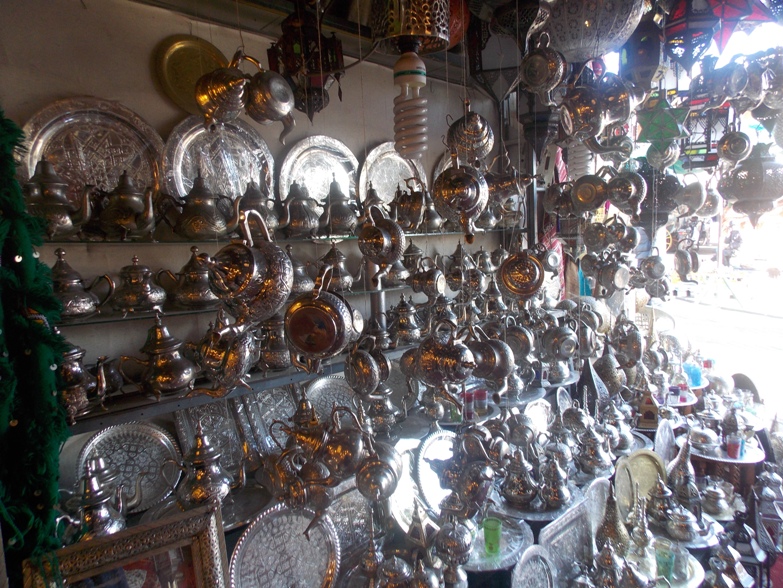 A collection of inscribed platters crammed on shelves and dangling teapots at one of Jemaa al-Fna market's stores
Egypt and Morocco bear basic, clear similarities in the elaborate cravings on copper. Some platters, teapots, and trays displayed throughout the stores bring to mind the same handcrafted products of al-Hussein neighborhood in Cairo.
Each country, however, has its own artistic features. While the handmade Arabic calligraphy is what distinguishes the Egyptian artistic work the most, the Sabrine design makes a statement among other Moroccan patterns. Sabrine design stands for the star pentagon gracing the Moroccan flag.
A wide array of colorful ceramic decorative serveware piled up at one of Jemaa al-Fna market's stores
"The clay in Morocco is characterized by a high-quality and durable material for containing a high percent of iron oxide," another artisan said while pointing to a huge stack of colorful, ceramic hand-thrown and hand painted bowls, platters, and Mabkhara (incense burners).
He recounted the stages of the manufacturing process, obviously knowing by heart, with a beaming enthusiasm, "We [artisans] create different shapes out of clay on a potter's wheel, and then finish them off with a ceramic glaze to give it a luminous look and professional touch that turn it to a real piece of art."
Despite the eye-catching designs, serveware is sold for reasonable prices, ranging from LE60 to LE150 (after some negotiations, of course, with vendors). A large ceramic plate with metal embroidered edges for home decoration may cost a little more, but the artistic souvenir still worth it.