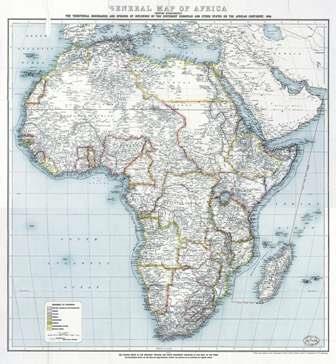 Al-Masry Al-Youm newspaper publishes the African continent's map showing the political borders of African countries during the colonial era in 1909, which demonstrated that the contested Halayeb and Shalateen area is under Egyptian, not Sudanese, sovereignty. The map shows the political border between Egypt and Sudan at latitude 22 degrees at north when they were occupied by Britain.
The map dates back to 1909, ten years after the 1899 condominium agreement. The table in the bottom of the map indicates the European domination over Africa by color.
Al-Said al-Husseini, Chairman of the Geographical Association of Egypt, said, "Egypt's southern political borders were determined in accordance with 'Wefaq' agreement held between the two governments of the Queen of Britain and the Khedive of Egypt on 19 January 1899, which was published in Al Waqaa Al Masrya newspaper [Egypt's official Gazette]."
Husseini clarified that the map is "neutral, not Egyptian or Sudanese." It is a map that confirms the sovereignty of Egypt over Halayeb and Shalaten, he said.
He added that these borders were determined by a latitude of 22 degrees, north of the Red Sea coast to Mount Owaynat, at a distance of about 1220 km.
Article 1 stipulates that Sudan is named on the territories which are located under a latitude 22 degrees.
Husseini said that Egypt signed a decree to join Halayeb and Shalateen to the Sudanese administration, referring that a latitude 22 degrees, at north, is shown as a political border in the map.
There is a difference between the sovereign borders and the administrative borders between the countries. The country's administration over lands does not give it the right of sovereignty over them, Husseini clarified.
Edited translation from Al Masry Al Youm