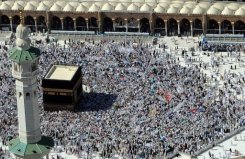 Saudi security forces said Tuesday they had arrested a man for trying to commit suicide in Al-Kaaba, the most sacred site in Islam, at the Great Mosque of Mecca.
A statement by the special security forces responsible for securing the holly site said that the man was arrested while trying to set himself ablaze in the circumambulation area around the Holy Kaaba, after pouring benzene on himself.
Major Sameh al-Salmy, spokesperson for the force, said in the statement that policemen arrested the man before he set himself on fire at 11 pm on Monday. Salmy added that the man's behavior suggested he was psychopathic.
Earlier reports by local news websites and social media tweets claimed that the man was trying to set the Kaaba on fire.