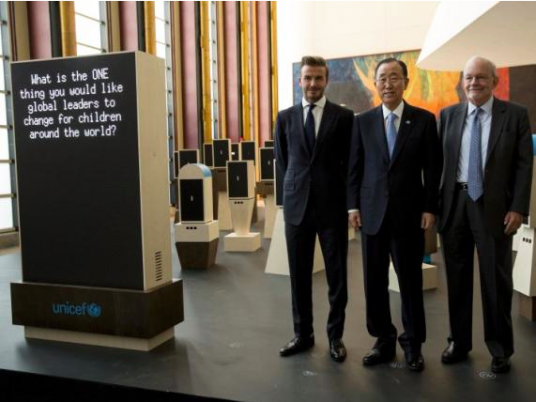 Nobel Peace Prize winner Malala Yousafzai will ask world leaders on Friday to ensure that every child in the world gets a quality free 12-year education, while former soccer star David Beckham made a plea at the United Nations for children to be put first.
Malala, who was shot on a school bus in Pakistan in 2012 by the Taliban for advocating girls' rights to education, will open a summit of world leaders at the United Nations that will adopt a global sustainable development agenda for the next 15 years.
"The dreams (the world leaders) have for their own children, I'm hopeful they will have the same dreams for the rest of the world's children. … The rest of the world's children also deserve the right to go to school," Malala told Reuters in a phone interview on Thursday.
"If you want our future to be more powerful, to be enlightened, to be bright, we need to invest in education, which does not require as much money as we think – just US$39 billion, which we spend just in eight days on (the) military," she said.
Malala, who celebrated her 18th birthday in July in Lebanon by opening a school for Syrian refugee girls, said she would also highlight the plight of refugee children as Europe faces the largest wave of refugees and migrants since World War Two.
"It really makes me sad; so I'm hopeful that world leaders will really think about finding a solution to all these problems and ensuring that people go back to their homes," she said.
Malala will speak at the United Nations after an address by Pope Francis. She said she hoped to be able to meet him because she believed his words could "bring people together to work for the betterment of humanity."
Beckham, who has been a goodwill ambassador for UN children agency UNICEF since 2004, on Thursday launched an installation created by Google in the lobby of UN headquarters that sends personal messages from children to world leaders.
"Join me in asking the world leaders to put children, especially the most disadvantaged, at the heart of the new global goals," the Briton said. "Children all share the same hope, for a better future. With the world focused on the new global goals there is a real opportunity to make that hope a reality."