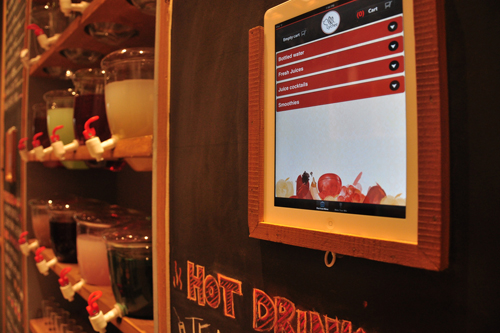 Lychee, the latest addition to Zamalek's Brazil Street, opened last month with a small gathering. But the hype the juice and smoothie bar has been generating from unknowing walk-ins during this two-week soft opening period show nthat o opening is necessary — these smoothies will speak for themselves.
Across the street from Mawardy and snuggled between the IKEA import store and the Quickmart, Lychee is unassuming, to say the least.
Once inside the door, things appear a little different. Paint is splashed, dipped and dotted on the wooden chairs and the elevated smoothie-making counter.
The left wall consists of two enormous chalkboards with a colorful list of juices and smoothies. At the bottom of one, it says, "Be Healthy and Make Your Grandma Proud!" Between them lies a mixing center with conical glass test tubes for mixing juices, available on tap from glass dispensers.
Customers are encouraged to mix and match, enjoying the freshness of the juices and the combinations of flavors. For those who are less adventurous, there is a long list of smoothies consisting of numerous exotic and friendly fruits.
Smoothies cost between LE15 and LE20. Our choice: the Berry Land — a mix of cranberries, strawberries, blueberries and raspberries, with banana and yoghurt.
You can order your juice "light," which means it has less sugar than the regular version. You can also ask for no sugar at all, and let the bold fruit flavor make it alone.
Other great smoothies include the Orange League and the Mango Club, for its candid flavor. Despite the cold (and the coldness of the icy smoothies), we were able to get through tasting almost the entire selection.
You are also welcome to pick your own fruits and create a smoothie. Some smoothies are milk-based while others are yogurt-based, and some are merely a collection of fruits.
Lychee is all about technology. They've already created an iPad app and have free Wi-Fi on location. The app allows you to mix your own drinks and order them. Although there are only three actual chairs and a scattering of stools, people mingle and lean on the counter for a chat while they sip their smoothies.
Two young women in the store were quick to share their excitement about the place, saying they'd heard from others about how good the smoothies were.
"We came from Heliopolis to try them out," said Sherry, 21.
The fruits are all real — no flavors — but some are frozen, like the raspberries, while the readily available ones, like bananas and oranges, are fresh. While Lychee is now opening its second branch at the Gezira Club, there are plans to get out of Zamalek and potentially open in Maadi or Korba.
Lychee; Address: 5 Brazil Street, Zamalek; Tel.: 010-0202-0221; Hours: 10 am to 11 pm daily.
This piece was originally published in Egypt Independent's weekly print edition.