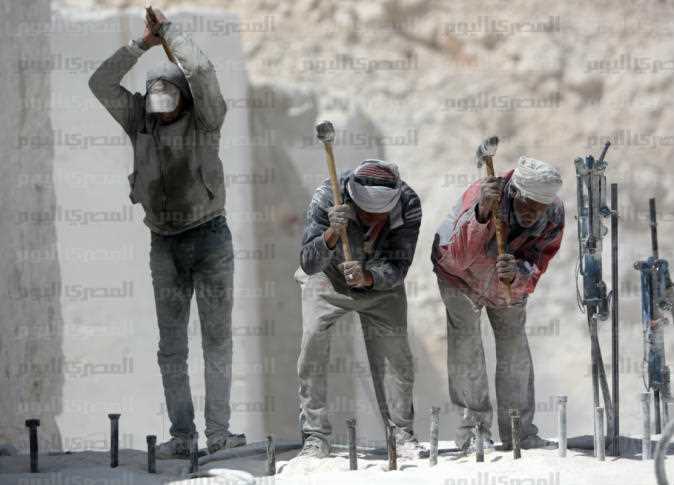 Major developmental projects are being constructed in Sinai, led by the tribesmen working hand in hand with Egypt's Armed Forces and different government agencies, following a return to normal life after five years of continuous counter-terrorism operations in Sinai.
Ibrahim al-Erjani, head of the Sinai Tribes Union, told Al-Masry Al-Youm that 24 tribes are contributing to the Sinai Sons Company with 18,000 tribal shareholders for the development of Sinai, in cooperation with the Armed Forces represented by the National Service Projects Organization (NSPO).
He added that the largest Marble factory in the Middle East will be opened within two months, in conjunction with the celebrations of the anniversary of the victory of October 6 War.
Erjani said that this factory is one of the most modern technologically advanced factories in the world. It is currently staffed with engineers and workers, and there are Italian experts working to train the Egyptians workers on in European specifications.
According to Erjani, Sinai's mountains have the finest marble types in the world according to many studies and researches, and the factory will provide about 1,000 jobs directly, besides indirect employment opportunities for the Sinai people, and production will focus on the local market in Egypt as well as competition in the Gulf market.
Erjani said that there are preparations to reclaim over 200,000 feddans (area unit) in the city of Bir al-Abd in middle Sinai, which will be distributed to the people of Sinai. He added that there are efforts to help Sinai's people, such as water well drilling and operation to help people bred livestock and grow various crops.
Erjani added that what will happen during the next three years in Sinai will be twice as much as it was in the past 30 years, to create new jobs for the people there.
He pointed out that 42 wells have been drilled in the military operations area against terrorism in Rafah, al-Sheikh Zuwaid and Arish to assist in the cultivation of peaches, olives and clementine, as these crops have made jobs for thousands of citizens. He added a factory is expected to be established for drying and packing these fruits.
Erjani continued to say that these development in Sinai hurt terrorists, because they need an environment in which there is unemployment to impose their control and drive young people into terrorism.
He concluded by saying that reconstruction in Sinai began without any fear, and that these extremists have finally begun to disappear.
Edited translation from Al-Masry Al-Youm