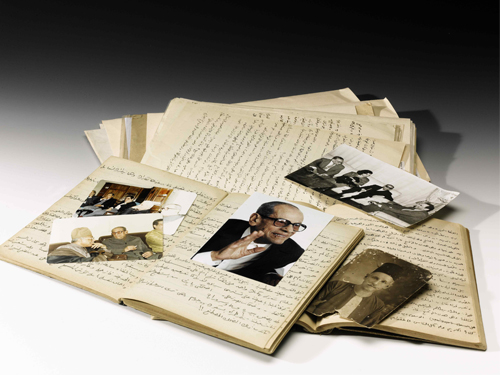 The Sotheby's London auction house stopped the auction of a "highly significant" archive of materials by Egyptian Nobel Prize-winning writer Naguib Mahfouz Wednesday, responding to appeals by the laureate's immediate family, the Egyptian Culture Ministry and prominent authors.
The Wednesday night announcement read:
"While it is clear that Sotheby's consignor had purchased the Mahfouz manuscripts from a member of Naguib Mahfouz's family, other family members have within the last hour issued a challenge to that purchase. Sotheby's takes title issues very seriously and has, accordingly, withdrawn the papers from sale until this is resolved."
The archive, which was supposed to have gone on sale tomorrow, included family photographs, early manuscripts, late work and 100 pages of an unpublished novel titled "Story of the Sudan."
Neither Mahfouz's family nor their advocates in Cairo have yet seen the materials in question.
However, Alyn Hine, a doctoral candidate at the School for Oriental and African Studies in London, saw the materials when he assessed the collection for Sotheby's.
"It's always hugely exciting to hold in your hands the original writings of any significant author, especially one as highly regarded as Naguib Mahfouz," he said.
The Mahfouz manuscripts were particularly interesting, he said, because "his sketches of 'The Dreams' show how badly his physical faculties were affected after the assassination attempt. Without wanting to sound too sentimental, I thought that you could see the courage and determination of the man in his shaky handwriting. The earlier manuscripts also gave an insight into how he worked, which I found very inspiring."
Hine thought the unpublished draft of "Story of the Sudan," which he speculated might be related to Mahfouz's popular "The Cairo Trilogy," would "be of more interest to scholars rather than readers as I know how frustrating it can be, as a reader, to read something that is incomplete. However, it would depend on what a skilled editor could achieve with the material."
Of all the materials, Hine said, "the 'Sudan' story and 'The Dreams' manuscripts are the main items in the cache … They both demonstrate how a great writer works, albeit in two entirely different ways. I think that someone familiar with Mahfouz's biography would gain a great deal of insight into how he crafted his literary works by looking at those two manuscripts."