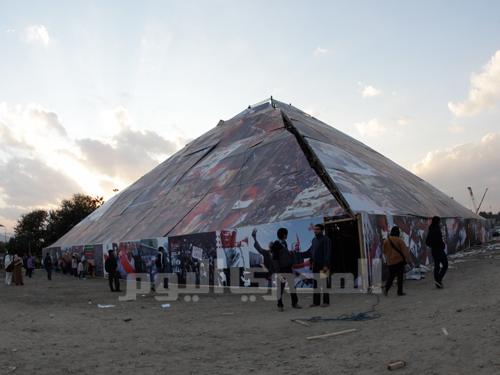 Misr Company for Spinning and Weaving workers continued striking Saturday for the seventh day in row as the cabinet continued to ignore their demands.
Around 23,000 workers are striking. Their demands include the improvement of the company's health care system and the disbursement of 12 months' worth of overdue profit-sharing payments, delayed since 1992. They also want the company purged of corruption, including removing company head Abdel Alim Hassan and restructuring the management.
On Saturday the workers discussed escalating their protest by staging a march to the presidential palace to ask for President Mohamed Morsy's intervention.
As in the previous six days, the workers arrived in the morning but refused to start the machines.
They gathered outside the management building and beat drums. They walked around the building holding a symbolic coffin for Hassan and chanted: "We are staying, we are not leaving," "Oh shift laborers, those are a bunch of thieves," and "We want our rights."
Some laborers marched inside the building to stress their demands.
"Misr Company for Spinning and Weaving laborers do not recognize the syndicate committee appointed by the [now-dissolved] State Security Investigation Service, which is absent from the workers' strike, always supports the management, and is biased against the workers' interests," said labor activist Wael Habib.
Labor leader Kamal al-Fayoumy said: "The laborers refused to operate the machinery Saturday and insisted on continuing the strike indefinitely even though they have not received their monthly salaries."
"The cabinet is trying to buck the workers, so workers discussed the possibility of escalation and organizing a march to the presidential palace to meet with President Mohamed Morsy and present the problems of the company and its workers to him," he added.
Mahalla, in the Nile Delta, is a hub for the labor movement and one of the most industrial cities in Egypt. In 2008, during the largest strike the country has ever witnessed, Mahalla's workers protested soaring prices and low wages. On 6 and 7 April that year, violent clashes erupted between security forces and protesters who set the now-dissolved National Democratic Party's headquarters on fire and chanted slogans against then-President Hosni Mubarak.
Edited translation from Al-Masry Al-Youm