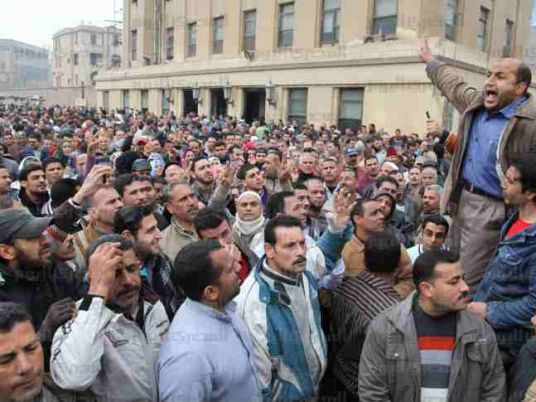 More than 10000 workers at the Weaving and Textile Company in Mahalla continued on Wednesday their strike for the second day in a row at the headquarters of the the company in Mahalla City to demand the disbursment of the rest of the profits and to prosecute company corrupt officials.
"More than 10000 male and female workers in Mahalla textile company began today morning a strike and an open-ended sit-in at the company's headquarters in order to claim the rest of the (annual profits)for two months of the financial year 2103/2014, to start swiftly the company's development plans as the government promised, to investigate corruption claims and prosecute corrupt (officials)," read a statement by the Center for Trade Unions and Workers Services (CTUWS) published on Tuesday.
The statement mentioned that the workers started their sit-in at 7 am. The strike was started by workers who were on shift on Monday evening and were supposed to leave the company at 7 am, before workers who were supposed to start their shift at 7 am on Monday joined them, the statement added.
Hundreds of workers, out of 25000 workers at the company, joined a protest on Sunday for two hours to demand financial entitlements and the development of the company, but were disregarded by officials.
The workers had been waiting for the disbursment of the rest of the profits since last November, the statement quoted labor leader at the company Faisal Laqousha as saying.
"In addition to the decision of the minister of agriculture to lift subsidies for the Egyptian cotton cultivation which angered workers," Laqousha added.
"The CTUWS declares solidarity with the legitimate demands of the Mahalla company workers, and calls on the government represented by the Minister of Investment to sit with the 'real' representatives of workers to negotiate their demands and topped by the disbursement of two months profits and the announcement of a clear and transparent timetable for the development of the company away from media remarks," added the statement.
The recent report issued by the Cabinet on restructuring public sector companies work gives a chance to the privatization of companies, according to CTUWS.
Among the chants reiterated by protesting workers were: "Strike is legitimate against poverty and hunger," "We have military men and wardens, they are the men of all ages," "Oh Haidar tell more and more about the workers in the square," "They lifted cotton subsidies and workers bleeded of wounds."