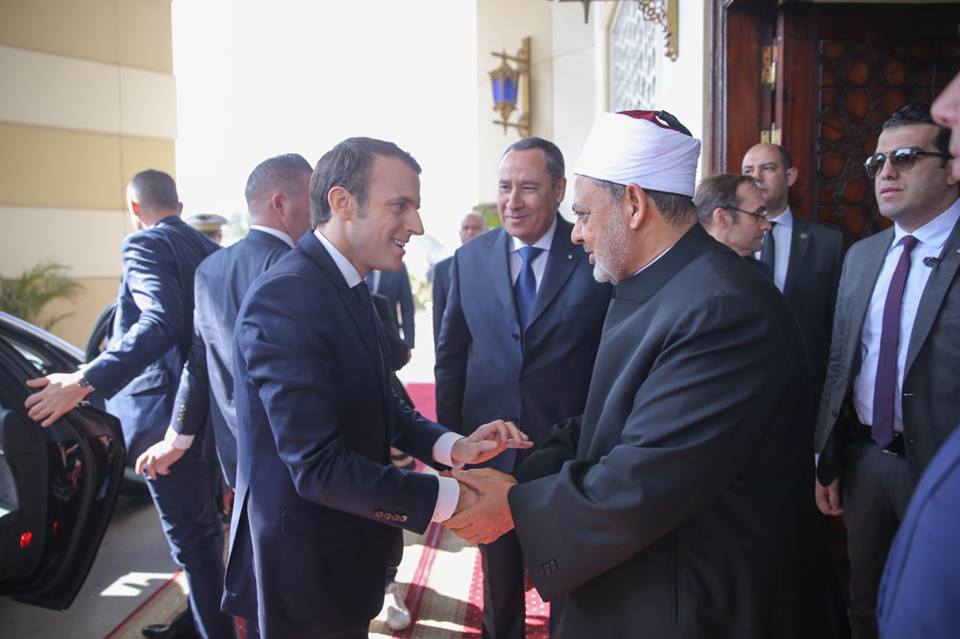 The Grand Sheikh of Al-Azhar Ahmed al-Tayyeb said on Tuesday that the top Sunni religious institution in the Muslim world is ready to support France by organizing a program to train imams to face the terrorist ideology and granting scholarships to French students to study at al-Azhar.
During a meeting with French President Emmanuel Macron at the al-Azhar Sheikhdom, Tayyeb said that the strong relations between the two countries necessitate helping France overcome terrorism and confronting those who kill others in the name of religion.
He added that al-Azhar has addressed extremist ideas and currents, while spreading the correct religious concepts through its moderate approach.
Tayyeb pointed out that extremist groups and currents falsely attach themselves to religion, while they know nothing about it, instead using it to implement their agendas and malicious targets.
For his part, Macron expressed his happiness to meet Tayyeb as the biggest Islamic symbol, with a pivotal role in confronting all forms of violence and terrorism, along with his constant work on bridging interfaith dialogue and his efforts to revive Islamic science and knowledge.
Macron expressed his aspiration to increase cooperation with al-Azhar and coordinate with it to promote the values of citizenship, coexistence and stability in French society and to confront the extremist currents that attract young Muslims in France.
Meanwhile, Macron had a separate meeting with Pope Tawadros II at the St. Mark Cathedral in Abbasiya on Tuesday. The Pope said that the churches had been subjected to many terrorist attacks, but they were always an example of unity. The Egyptians live around the Nile, which has made them one unit, Tawadros II said.
He pointed out that Egypt is facing a huge challenge due to the growing population, which needs an intellectual and cultural battle courageously led by President Abdel Fattah al-Sisi, as well as the government, adding that there is strong and extended friendship between France and Egypt.
For his part, Macron stressed that he was keen to visit the Orthodox Church out of his respect for it and in recognition of the values it represents, not only for the history of Egypt, but also for its future, praising the government's efforts to ensure the security and protection of the Copts.
Edited translation from Al-Masry Al-Youm