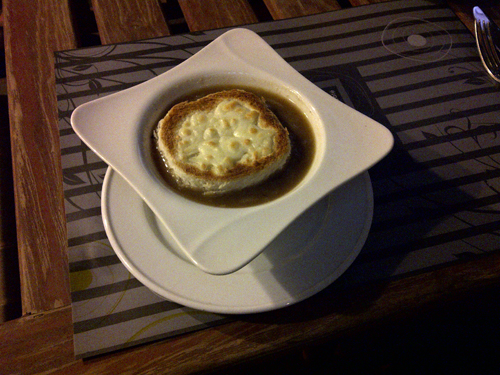 Slightly hidden from the hustle and bustle of the busy Corniche, a minute away from Maadi's second entrance, lies Cocoon Café and restaurant with its striking, ultra-modern entrance.
Parking can often be mission impossible in the area, but, with the help of a valet, there's no need to worry. The open-air area is well lit, spacious and pleasant. However, the lack of outdoor heaters does make it hard to sit outside after sunset in the winter.
The interior design is spectacular with the dining area lit by two stunning chandeliers. The tables are neat and the contemporary chairs are funky, but comfortable. A few egg chairs are scattered around the spacious diner. Warm accessories and a smattering of indirect light create a pleasant and welcoming feel.
The menu is diverse; there are many options, which come from several cuisines around the world, with a concentration of Greek specialties. The "Cocoonadis" was our first choice from the appetizers: a mix of artichokes, mushrooms, dried tomatoes and green peppers coated with melted Halloumi and mozzarella cheese. The baking paper-wrapped mixture is definitely interesting but perhaps a little strange for Egyptian tastes. The seasoning was also too strong, too salty and too peppery.
The onion soup was good and the cheesy toast on top was just right with the correct thickness and amount of cheese. The soup was slightly thicker than it should be, but tasty.
For the main course, opt for the chicken with prunes. The chicken breast is well prepared and tender, bathed in a generous amount of dark, luscious prune sauce. The prunes create a lovely dark brown color and were cooked just right, adding a pungent bite to the sauce. This saucy fusion comes with a side of perfectly cooked white rice.
Unfortunately, the pizza was a little dull and overcooked, with the crust covered in slightly burnt cheese. The crust also felt and tasted odd; it was too soft and tasted a little like fino bread. Toppings were scarce and the salami promised in the menu had been replaced with luncheon meat.
Service is speedy, but the waiters were not knowledgeable about the menu. No recommendations were offered from our waiter although I asked twice. The coffee menu is ordinary and the cappuccino was just ok — a little on the foamy side.
The prices are also a bit on the high side. The soup is between LE20-22, while the hors d'oeuvres range between LE42 and LE70. The chicken with prunes is LE65, while pizzas range between LE40 and 55.
Cocoon; Address: 41 Corniche al-Nil, Maadi; Hours: 12 am –10:30 pm daily.
This piece was originally published in Egypt Independent's weekly print edition.