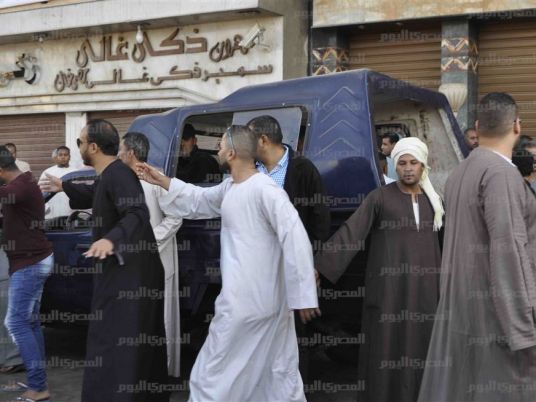 Hundreds of citizens protested in Luxor on Friday, condemning the the death of a fellow villager after his alleged torture by police.
People believe Talaat Shabib, 47, was beaten to death hours after his arrest from a local coffee shop in Awamiya district on Wednesday. His family learned he was dead upon his transfer to Luxor's International Hospital.
The incident sparked violent clashes between police and citizens enraged by Shabib's death on the same day.
Though the pseudo-official National Council for Human Rights blamed security for the mistreatment of prisoners and bad jail conditions in June, the Interior Ministry, which persistently denies detainees torture allegations, is facing the fourth accusation of its kind in a week.
In Qalyubiya, the family of Amr Abu Shanab accused officers at Shibin al-Qanater police department of beating their son to death. The officers denied the accusations during interrogations by the prosecution, arguing that Abu Shanab had been arrested for theft and had also been escaping a previous sentence. The officers said the victim had hepatic issues and died of a coma while medics were trying to save his life.
Abu Shanab's lawyer, however, accused the police officers of beating his client with hoses and gun heels to wring out information about a theft. The lawyer said that his client was bleeding and asked for help, but no one came to his aid.
In Ismailia, a police officer raided a pharmacy and assaulted its owner, Afifi Hosni, before taking him to the police department and assaulting him again, leading to his death. The incident prompted the Interior Ministry to suspend the officer from work pending an investigation into the incident.
Hosni's death prompted an association of medical professions in the province to issue a statement urging Egypt's President Abdel Fattah al-Sisi to "intervene to save the country from police violations".
The reason behind the police raid is still unclear.
At the Sixth of October suburb, west of Cairo, a traffic policeman was remanded into custody for four days pending investigations over allegations that he had violently beaten a microbus driver and threatened to fabricate a drug possession to incarcerate him.
Investigations by prosecutors revealed that Hassan Gomaa, the driver, was driving school students when he was stopped by the police officer who was also taking his son to school. According to video clips filmed by the students' parents, the officer swore at the driver before punching him in the face and threatening to frame him with a drug possession. He was apparently angered because the driver blocked his way with his microbus.
The officer took the driver to a police station to document the fabricated drug possession, but the parents, siding with the driver, submitted their video footage. Officers at the department searched their accused colleague and found the alleged drug packet in his possession.
Judicial sources told Al-Masry Al-Youm that the officer was suspended pending investigation.
Edited translation from Al-Masry Al-Youm