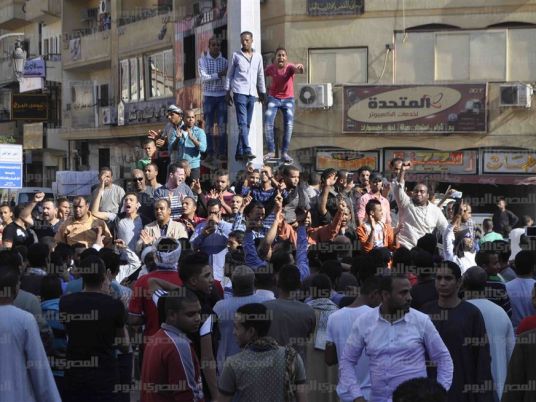 Qena Criminal Court sentenced, Tuesday, a first lieutenant and five police informants to prison over the beating to death of a detainee in Luxor Police Station in November 2015.
First Lieutenant Samir Hany was given seven years of prison with hard labor, and informants Moussa Youssef, Mostafa Gamal, Mohamed Abu Ghanima, Mahmoud Sayyed and Mersal Hanafi were sentenced to three years.
The detainee, 47-year-old Talaat Shabib, was arrested on November 25 at a coffee shop in the Awwamiyya area of Luxor on suspicion of possessing drugs. He was escorted to a police station, and hours later, his family was notified that he had died upon being admitted to hospital.
The forensic report indicated that Shabib had suffered a blow to the neck and back that cut his spinal cord, MENA news agency reported at the time.
An eyewitness present at the scene of the arrest said Shabib was in good health prior to his detention.
Violence erupted between police forces and citizens in Luxor's Awamiya neighborhood on November 25 as locals accused the police of torturing Shabib to death while in custody.
During Tuesday's court session, the officers involved in the incident denied torturing Shabib to death.
The criminal defense lawyers claimed that the victim died from an injury sustained falling down the stairs, indicating that the forensic report did not exclude this possibility. They called for the acquittal of the defendants.
Essam al-Hemali, Luxor's security chief, denied the torture allegations, arguing that the detainee suffered "severe sickness", leading to his abrupt death.
Dozens of Shabib's relatives attended the court on Tuesday amid tight security measures in anticipation of a repeat of last November's riots.
The family continued to support allegations that he had been tortured to death.
Shabib's cousin, Youssef al-Rashidy, provided the judge with photographs and video clips showing Shabib's corpse in the morgue bearing marks of the alleged torture.
Shabib's wife, Geehan al-Rashidy, said that the day of the incident, neighbors had informed her that her husband was fighting with police officers outside the coffee shop where he was arrested. She said she learned of his death hours later.
The court obliged the Interior Ministry to pay LE1.5 million compensation to Rashidy.
First Lieutenants Baher Taha and Mohamed al-Abnoady, Captain Ibrahim Omara, and four other personnel affiliated to Luxor police station were acquitted.
Edited translation from Al-Masry Al-Youm