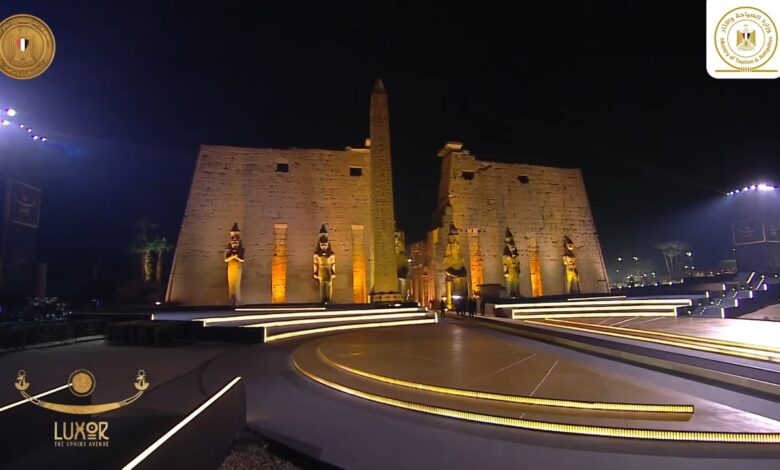 The city of Luxor was decorated for the celebration of the "Road of the Rams", at 7:30 pm on Thursday.
The city plans to restore its civilized image, raise its efficiency and develop it completely in order to attract more tourists from all countries of the world.
The development projects include the upper and lower Corniche project, the development of four main squares, the Children's Garden, the development of Sidi Aboul Hajjaj Square and the Tourist Market Street.
Building a new tourist marina and providing new river ferries, a project to light al-Qurna Mountain on the western mainland are also planned. 
The facades of nearly 2,000 homes were painted in the desired areas.
About 8,400 meters of roads, and 35,000 meters of interlocking were completed and drainage works were carried out on the Airport Road.
The roads that have been revived include Al-Sayed Youssef Road, and the Western Rams Road from the Airport Bridge to Al-Matahn Bridge.
The development works included the development of the Fountain Square and the Airport entrance, building two airport fountains, and King Abdullah Square.
The airport, Rams, and Karnak Temple roads and King Abdullah Square were decorated with plants as a special addition. 
Two other squares were created on the Airport Road, lighting, plants and modern irrigation methods were also installed. 
The Luxor Marina has been developed to receive floating hotels, as it is divided into two parts, the first at a length of 450 meters to accommodate five berths for the berthing of floating hotels. The second at a length of 730 meters to accommodate six berths for floating hotels.
The berth also include 69 shops.
The marina project include a drainage network for Nile boats along the marina, in addition to a fire network. The marina was also beautified by making murals of fine arts, integrating Arabic calligraphy and images of men and women and symbols such as palms and sailboats, to celebrate the life of the ancient Egyptians.
The development works included paving the floors using marble, granite and black basalt and making planting basins containing various forms of plants. 
The marina has been provided with 17 wooden pergolas and six kiosks to serve citizens decorated with inscriptions bearing the distinctive visual identity of Luxor City.
These huge works came ahead of the Rams Road inauguration, in implementation of the directives of President Abdel Fattah al-Sisi and Prime Minister Mostafa Madbouly, Luxor Governor Mostafa Elham said.
The Ministry of Tourism and Antiquities said that as part of preparations for the  Rams Road event, the Luxor Temple was closed, and sound and light shows were canceled at Karnak Temple.
The ministry decided to allow media professionals, journalists, and photographers from various local and international media outlets to film for free inside the Karnak and Luxor temples, Friday. 
Edited translation from Al-Masry Al-Youm