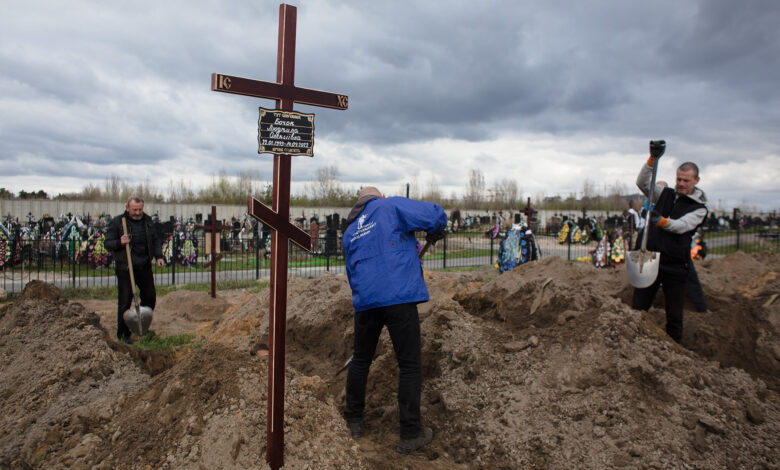 London's Metropolitan Police has received around 50 referrals of alleged war crimes in Ukraine, the force said Friday.
The Met Police is collating evidence to assist the International Criminal Court (ICC) with its ongoing investigation into the war in Ukraine.
Its War Crimes Team has appealed to anyone in the UK with knowledge of war crimes committed in Ukraine to come forward. It is looking at incidents that happened at any time from 21 November 2013 onwards, the Met's statement said.
"Since the start of the recent military activity in February, our officers have been proactively engaging with Ukrainian communities in the UK," Detective Chief Superintendent Dominic Murphy, head of operations for the Met's Counter Terrorism Command, said in the statement.
We've had around 50 referrals into us and we expect that number to grow over the coming weeks as more and more people who fled from Ukraine arrive here in the UK."
"We want to make sure those people know we're here and that we're ready to receive any evidence of war crimes from them, as well as provide them with the support and help that they might need in relation to that."
"I'd also ask any households across the country who have volunteered to host Ukrainian people that should you come into contact with anyone who might have been witness to, or victim of possible war crimes, then you encourage them to contact us," he said, adding:
Please let them know we are here and that we can help them."
Some background: During a visit to the towns of Bucha and Borodianka earlier this month, International Criminal Court (ICC) Chief Prosecutor Karim Khan said there were "reasonable grounds to believe that crimes within the jurisdiction of the ICC are being committed."
Khan also warned that it would be "challenging" to guarantee justice would be served in Ukraine, given Russia's decision to withdraw its signature from the ICC statute, which gives the court jurisdiction to prosecute individuals for genocide, crimes against humanity, war crimes, and the crime of aggression.