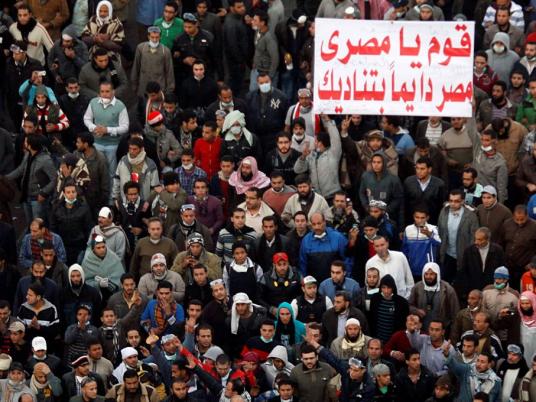 The streets around the Interior Ministry in Cairo were calm Tuesday morning following clashes over the last few days between security forces and protesters, and shops reopened for customers.
Normal traffic flow resumed in nearby Tahrir Square, and hundreds of demonstrators retreated there. Some built metal fences and formed human shields on Mohamed Mahmoud Street to prevent renewed clashes.
Dozens have been killed and hundreds wounded in clashes that erupted late Thursday between security forces and protesters.
Army forces had earlier set up stone blocks on four streets leading to ministry building to block attacks by protesters and end fighting.
A number of demonstrators in Tahrir started cleaning the square, while others debated over whether to close the square or resume their sit-in without blocking traffic movement.
Angry activists and football fans decided to protest last week near the Interior Ministry to denounce security forces' idleness during a football match between Port Said's Masry and Cairo's Ahly teams last Wednesday.
Masry fans swarmed the pitch attacking Ahly fans and at least 74 people died in the violence. Many citizens and MPs have laid much of the blame for the deaths on the Interior Ministry.
Translated from Al-Masry Al-Youm