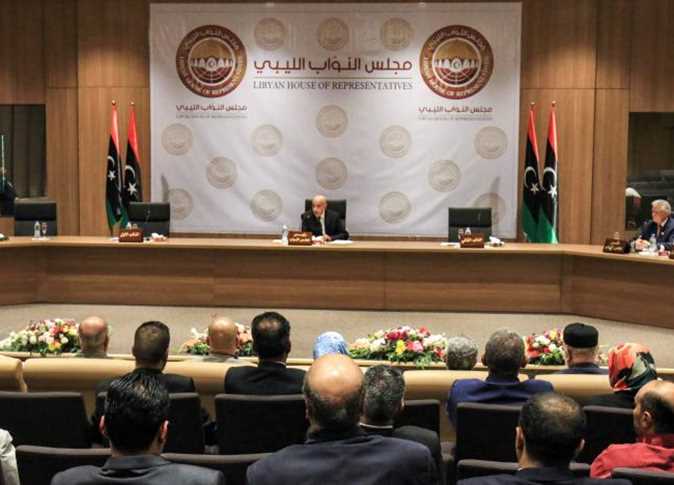 The Libyan parliament on Monday granted the Egyptian armed forces the right to intervene in the country's ongoing conflict to protect Libyan and Egyptian national security.
The decision allows Egypt to intervene if the Egyptian armed forces see an imminent threat to the security of the two countries.
The parliament announced that it welcomes the statement made by President Abdel Fattah al-Sisi regarding military intervention in Libya, and called for concerted efforts between the two brotherly countries to ensure the defeat of invading occupiers and to preserve national security and stability in the region.
The statement added: "Confronting invaders guarantees the independence of the Libyan national decision, and protects the sovereignty and unity of Libya, as well as the wealth and resources of the Libyan people from the ambitions of the colonial invaders."
The Libyan parliament stressed that maintaining a fair distribution of wealth and oil revenues and protecting it from armed militias is a legitimate demand made by all Libyan people.
The statement said that the decision allowing military intervention by Egypt was made because of blatant Turkish military intervention in Libya, in cooperation with armed militias that are controlling the west of the country under a de facto authority.
Egypt has throughout history represented a strategic depth to Libya at economic, social and security levels, the statement said, adding that the Turkish occupation poses a direct threat to Libya and neighboring countries, especially Egypt.
The occupation, the statement said, can only be stopped through concerted efforts between Arab countries.
Sisi on Saturday said that Egypt has the right of international legitimacy at this point, based on the United Nations Charter, to militarily intervene in the Libya.
During a televised speech given in the Western Military Zone, Sisi added that Egypt has also received support from the Libyan House of Representatives to intervene in the Libyan crisis.
Any intervention will aim to protect and secure the western borders from terrorist militias, Sisi explained, and to restore stability to Libya's territories and thereby maintain the stability of Egyptian and Arab national security at large.
Egypt is working towards a ceasefire at Libya's eastern and western borders, while also preparing to launch comprehensive political settlement negotiations under the auspices of the UN and to implement the resolutions of the Berlin Conference and the recently announced "Cairo Declaration", backed by Khalifa Haftar and Libya's parliamentary speaker Aguila Saleh.
Sisi also moved to raise the Egyptian army's level of military readiness to carry out operations in Egypt and Libya.
The Cairo Declaration takes into consideration the international resolutions, UN efforts, and Berlin Conference resolutions towards ending the Libyan crisis, Sisi explained, paving the way for the future of Libya following the withdrawal of foreign forces and the dissolution of military militias.
Edited translation from Al-Masry Al-Youm