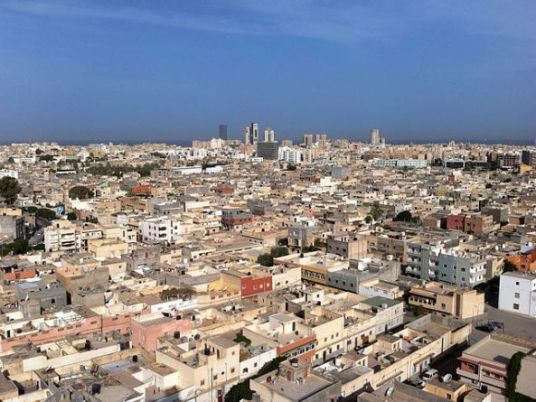 Authorities in Libya's militia-held capital say they arrested an Emirati police officer on suspicion of being a spy, though Dubai police on Thursday said the man in question was fired five years ago.
The arrest comes as U.S. officials last year said the United Arab Emirates carried out airstrikes against Islamist militias in Libya, still torn between armed rivals after its 2011 civil war and the killing of dictator Moammar Gadhafi. The Emirati's arrest also follows detention last year of several Libyans in the Emirates who human rights activists say have been tortured and held incommunicado ever since.
Tripoli prosecutors released a passport and a national ID card for the detained Emirati, which identified him as Yousuf Saqer Ahmed Mubarak Welayti.
The Tripoli authorities detained Welayti, identified as a corporal with the Dubai police, after receiving a tip and found 30 minutes of video footage purportedly from "one of the foreign embassies" in the Libyan capital, prosecution spokesman Sadik al-Sour said. He did not identify which embassy it was, though the UAE mission there has been closed for more than a year.
"This is just the initial investigation," al-Sour said. "We can't say he's a spy yet, but we are still looking into it."
In a statement Thursday, Dubai police chief Khamis Mattar Al Mazeina said Welayti had been stripped of his commission as a police officer and as a soldier in 2010 over "moral" issues, without elaborating. Al Mazeina said Dubai police had nothing more to do with him. Emirati state media did not immediately report on Welayti's arrest.
The Emirati's detention is not surprising, given that an Islamist militia-backed government controls the capital. Libya's internationally recognized government, which the UAE backs, is based in the far eastern city of Tobruk.
The instability plaguing Libya since 2011 has allowed Islamic State militants to expand across the country and also helped make it a major transit point for migrants and refugees trying to reach Europe.
In the chaos, the United States says the UAE carried out airstrikes last year targeting Islamist militias in Libya, with Egypt providing logistical support. The Emirates has refused to comment on the allegations, and Egyptian officials repeatedly denied the claims. However, both countries have a deep suspicion of Islamists and other unclaimed airstrikes have hit Libya in the meantime.
The strikes reinforced the perception that Libya is a proxy battleground for larger regional struggles — with Turkey and Qatar backing the Islamist militias and Egypt, Saudi Arabia and the Emirates supporting their opponents.
Meanwhile, at least six Libyans remain detained in the Emirates, with Human Rights Watch saying that security forces have tortured them over alleged links to Islamist groups, citing other Libyans previously detained and released. Two who remain held are dual Libyan-U.S. citizens, while another is a Libyan-Canadian, Human Rights Watch said in October.
Emirati officials have not commented on the Libyans' case.