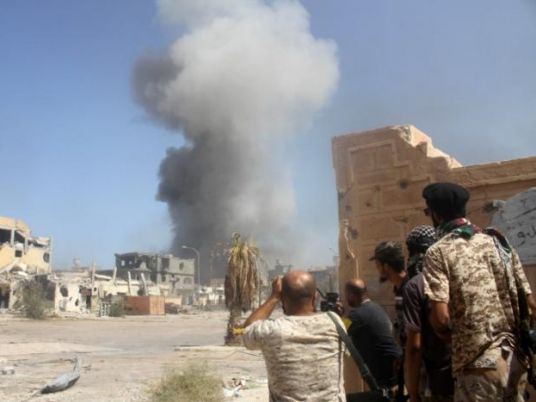 Libyan forces repelled an attempted ambush but lost at least eight of their men on Sunday, as they resumed their battle with Islamic State militants encircled in their former stronghold of Sirte, officials said.
A Dutch photojournalist, Jeroen Oerlemans, was also killed in the fighting.
A spokesman for the Libyan forces, Rida Issa, said militants who staged an ambush east of central Sirte had apparently arrived from the desert, in the latest sign of an enduring jihadist threat beyond the battle lines.
Forces dominated by fighters from Misrata and aligned with Libya's U.N.-backed government have been battling to capture Sirte for more than four months.
Supported since Aug. 1 by U.S. air strikes, they have taken control of most of the city and have been besieging militants trapped in a thin residential strip near Sirte's seafront for several weeks.
Their advance has been slowed by Islamic State snipers, improvised explosive devices and suicide bombings in close-quarter street battles. Occasional ground attacks are interspersed by rest periods that allow fighters to regroup and hospitals to clear casualties.
Issa said fighting had erupted "when Daesh (Islamic State) ambushed our forces at the Sawawa front line. Our forces foiled the ambush." Misrata-led forces believed the militants had come from the desert and were trying to reach Sirte's port, captured from Islamic State several weeks ago.
Militants have staged several attacks including suicide bombings from behind the front lines in Sirte, adding to fears that militants who are thought to have escaped in the early stages of the battle might have regrouped to launch counter attacks.
A Reuters witness said there had been heavy tank fire and several air strikes during Sunday's fighting, though it was not clear whether the strikes were conducted by U.S. or Libyan planes. As of Friday, the United States said it had carried out a total of 177 air strikes against Islamic State in Sirte.
Misrata-led forces were held up for several hours by sniper fire as they tried to advance across an open area of approximately 100m, before the sniper positions were eventually demolished.
A field hospital casualty list name eight fighters from the government-backed forces who were killed, five of them from Misrata. Issa said several dozen bodies of Islamic State militants had been counted on Sunday. The report could not be independently verified. At least 40 of the government-led forces were wounded, Issa said.