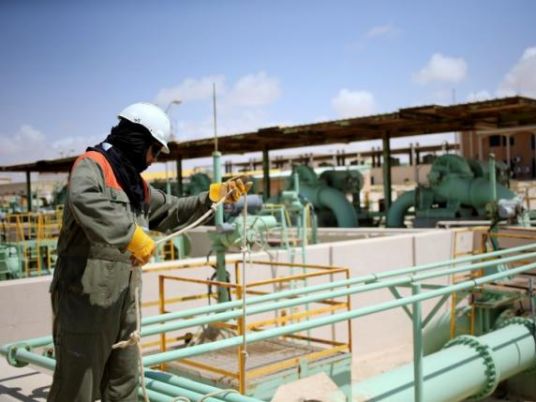 Libya's hopes to boost crude exports have been dealt a blow after the head of the National Oil Corporation (NOC) objected to a deal between the government and local guards to reopen key ports.
In a letter seen by Reuters to UN Libya envoy Martin Kobler and a number of oil and diplomatic officials, NOC chairman Mustafa Sanalla said it was a mistake to reward Ibrahim Jathran, head of the Petroleum Facilities Guard (PFG), for a blockade of the oil ports of Ras Lanuf, Es Sider and Zueitina.
The PFG confirmed on Friday that it would implement an agreement with Libya's UN-backed Government of National Accord (GNA) to reopen the ports within days, following a visit by Kobler to meet Jathran in Ras Lanuf.
The terms for ending the blockade have not been made public, but an initial payment for salaries for Jathran's men has been agreed, sources familiar with the matter say.
In the letter, Sanalla said the deal included payments that would encourage other groups to disrupt oil operations in the hopes of a similar payout.
"It sets a terrible precedent and will encourage anybody who can muster a militia to shut down a pipeline, an oilfield, or a port, to see what they can extort," the letter said.
Sanalla said the NOC would not lift force majeure at export terminals if a payout went through due to the risk that the corporation would face liabilities.
Should any court cases arise internationally for losses stemming from the blockade, "we, as NOC, are determined not to be attached to these lawsuits", the letter said.
The NOC also threatened to withdraw its recognition of the GNA's leadership, or Presidential Council.
Ali al-Hassi, a PFG spokesman, would not confirm whether any money had been received, but said the guards' salaries should be paid now that the force was fulfilling its promise to open the ports.
OPEC member Libya has been in turmoil for years, with rival governments and complex alliances of armed groups vying for power and a share of the country's significant oil wealth.
Armed factions, labor disputes and security threats have helped slash oil output to less than a quarter of the 1.6 million barrels per day (bpd) seen before the 2011 uprising against Muammar Gaddafi.
Sanalla's letter said that due to attacks from Islamic State militants and other damage, exports from the ports would struggle to surpass 100,000 bpd in the near term, a fraction of their designed capacity.
He added that NOC's largest subsidiary, Agoco, would be able to increase production by that amount if it received its operational budget from the government.
"To pay Jathran instead of Agoco makes no sense, politically, economically or legally," Sanalla said.
Asked about the terms of any deal with the PFG, Ahmed Maiteeg, a member of the GNA's Presidential Council, said only that he hoped the ports would open soon so Libya could earn badly needed foreign currency.
The country faces a financial crunch because of the collapse in its oil revenues.
"We heard many times from the PFG that they will open the oil ports," he told reporters in Tripoli. "Hopefully this time it will happen."
Jathran, who led blockades of the ports starting in 2013 saying he was trying to prevent corruption in oil sales, announced his support for the GNA after it arrived in Tripoli at the end of March.
The PFG has since helped push Islamic State fighters back along the coast to Sirte, where they are surrounded by GNA-aligned forces.
Kobler's visit to Jathran focused on continuing security cooperation with the GNA, diplomatic sources said.