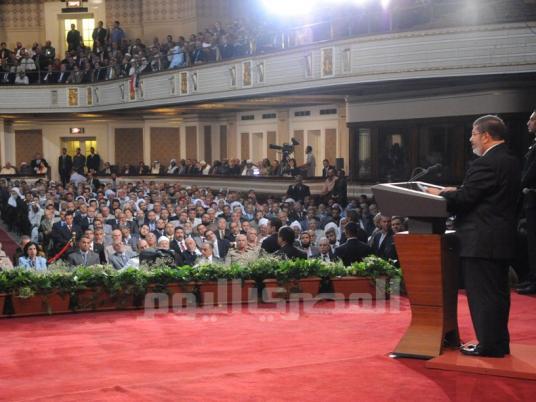 Political figures on Tuesday responded to President Mohamed Morsy's statement that he could use the law against critics.
"I tell my detractors, who are few in number, do not test my patience. I can deter you by law, but I prefer cordiality," Morsy said during a graduation ceremony at the Military Academy on Tuesday.
Ahmed Maher of the April 6 Youth Movement said that it is the president's right to respond to supporters of Ahmed Shafiq, who consider themselves the opposition.
Shafiq's supporters fish for mistakes, Maher said, adding that everyone has the right to oppose the president in a decent manner without resorting to defamation.
Saeed Kamel, head of the liberal Democratic Front Party, voiced his belief that the president is trying to make a show of strength after critics attacked him for his decree to reinstate Parliament.
"The speech does not bode well, because the military council was not that sharp in its addresses following protests. Morsy wants to confirm in front of military council and the interior ministry that he is in control," he said.
Liberal former MP Mohamed Abou Hamed called Morsy's speech "confrontational," adding that the president wants to return to the oppression and terrorism the former regime used to protect itself from criticism.
A president who does not accept criticism does not accept development, Abou Hamed said.
Egyptian television and radio personality Hamdy Qandil said that the situation should not get out of hand, adding that Morsy consults with all national forces and has no rivalries.
Qandil pointed out that Morsy's spokesperson said that the president wants to lead the country to stability.
Edited translation from Al-Masry Al-Youm